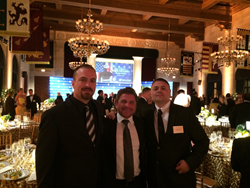 I am thrilled I was able to spend some quality time with Lenny and Jerry, two of our own heroes, in Washington, D.C. on Veterans Day.- Scott Sneer EVP Alpha Ecological
Vancouver, Washington (PRWEB) November 26, 2014
The U.S. Chamber of Commerce initiative "Hiring Our Heroes" that partners with a variety of companies across the country to hire 500,000 veterans and military spouses in the United States by the end of 2014 is about to reach its goal. An awards ceremony held in the Nation's capital on November 12th, 2014 recognized those companies that have helped in providing jobs for veterans and their spouses. Some of the companies that were honored include: Starbucks Coffee Co., Amazon, Capital One, and Alpha Ecological Pest Control.
Scott Sneer, Executive VP, and two Alpha Ecological technicians that are Veterans, Lenny Dato, and Jerry Gardner, were invited to Washington, D.C. with their families to represent Alpha Ecological at the event. Sneer, a longtime advocate for veteran's organizations who comes from a long family lineage of veterans, supported the Hiring our Heroes program from its inception. Alpha Ecological has sponsored many Veteran organizations in the past, but never anything on such a large economic and national level. Helping to provide a part of those 500,000 jobs will have a positive effect on veterans and their families.
"Our company has been supporting our country's veterans since the very beginning," said Sneer. "The Hiring Our Heroes program was another way we could contribute to helping our veterans on a national scale. We were ecstatic to partner up with the U.S. Chamber of Commerce and I am thrilled I was able to spend some quality time with Lenny and Jerry, two of our own heroes, in Washington, D.C. on Veterans Day."
The impact the pest control company makes on its local communities is huge. At Alpha Ecological, veterans are one of the company's top priorities in terms of corporate social responsibility.