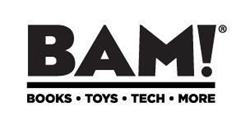 These special editions are sure to be cherished long after the holidays have passed. Mary Gallagher, Senior Vice President of Merchandising
Birmingham, AL (PRWEB) November 26, 2014
Holiday shoppers seeking that unique gift can choose from one of the largest signed edition collections in the nation when Books-A-Million stores open at 7 a.m. locally on Black Friday. Deal seekers will delight in 50 percent off door busters and buy one, get one 50 percent off on hot holiday gifts like Lego Star Wars and more. Plus, Books-A-Million is offering more than $150 in savings and free coffee through in-store coupons and online. All the deals can be found at Books-A-Million's Day-After Thanksgiving deals.
More than 120 authors make up Books-A-Million's signed editions collection, offering a wide variety for shoppers to choose from. Examples include:
• The Fault in Our Stars by John Green is a must-read for those looking for an emotional love story.
• P.C. Cast's final installment of her "House of Night" series, Redeemed, will allow series followers to finish it out in style.
• The southern classic, Fried Green Tomatoes at the Whistlestop Cafe, by Fannie Flagg gives an insightful glimpse into southern culture.
• The City, by New York Times best-selling author Dean Koontz is a must for suspense lovers.
• Joel Osteen continues to inspire with his 7th book, You Can You Will.
• Guy on Fire, by Guy Fieri will add pizazz to every cook's kitchen.
"We're delighted to offer our customers these autographed editions this holiday season, said Mary Gallagher, Senior Vice President of Merchandising. "Whether finding a place in their personal collections or offered as a memorable gift to someone on their shopping list, these special editions are sure to be cherished long after the holidays have passed."
Adding to the signed edition collection are works from Janet Evanovich, Carl Hiaasen, Charlain Harris, Louise Penny, Max Lucado, Debbie Macomber, and John Sandford.
Books-A-Million knows shoppers need fuel. Is there any better shopping fuel to power through Thanksgiving weekend shopping than Joe Muggs coffee? With this in mind, Books-A-Million is offering free tall coffee from 7-11 a.m. on the day after Thanksgiving with an in-store coupon.
Adding this impressive collection to Books-A-Million's already extensive lineup of books, toys, and technology keeps it ahead of the competition as the leading destination for holiday shoppers this and every holiday season.
Start shopping now by visiting the Books-A-Million Holiday Gift Guide online.
ABOUT BOOKS-A-MILLION
Books-A-Million, Inc. is one of the nation's leading book retailers and sells on the Internet at http://www.booksamillion.com. The Company presently operates 262 stores in 34 states and the District of Columbia.
The Company operates large superstores under the names Books-A-Million (BAM!), Books & Co, 2nd & Charles, and traditional bookstores operating under the names Bookland and Books-A-Million. Also included in the Company's retail operation is Yogurt Mountain Holding, LLC, a retailer and franchisor of self-serve frozen yogurt stores with 44 locations. The Company also develops and manages commercial real estate investments through its subsidiary, Preferred Growth Properties, which presently includes four retail shopping centers.
The common stock of Books-A-Million Inc. is traded on the NASDAQ Global Select Market under the symbol BAMM. For more information, visit the Company's corporate website at http://www.booksamillioninc.com.
Follow Books-A-Million on Twitter (http://twitter.com/booksamillion)
###