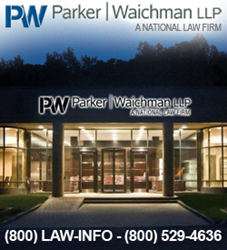 "Given all of the recent findings associated with Infuse, one has to wonder whether its benefits actually outweigh its dangers." says Gary Falkowitz, Managing Attorney at Parker Waichman LLP
Port Washington, New York (PRWEB) November 26, 2014
Parker Waichman LLP, a national law firm dedicated to protecting the rights of victims injured by defective drugs and medical devices, is commenting on recent charges made against medical device maker, Vascular Solutions Inc. (VSI), and its chief executive officer (CEO) and co-founder, Howard Root, regarding its "Vari-Lase" product line created to treat varicose veins by burning or "ablating" (removing) them with laser energy, according to the United States Department of Justice (DOJ).
Vari-Lase products received U.S. Food and Drug Administration (FDA) approval to treat superficial varicose veins. The FDA has not approved Vari-Lase for the ablation of "perforator veins." Perforator veins connect the superficial vein system to the deep vein system, coming into direct contact with deep veins. Laser treatment of perforator veins is a riskier and more challenging procedure, according to the DOJ. Both Root and VSI are charged with one count of conspiracy and eight counts of introducing adulterated and misbranded medical devices into interstate commerce. "These charges involve a deceptive sales campaign led by the CEO of a public company," said Acting Assistant Attorney General Branda. "The indictment charges that the sales campaign persisted in the face of FDA warnings, a whistleblower's complaint to the CEO, and a failed clinical trial showing that the device was less safe and less effective than a product that had already been approved." The case is U.S. v. Vascular Solutions Inc. et al., case number 5:14-cr-00926, and is pending in the U.S. District Court for the Western District of Texas.
"Patients should feel confident when they undergo procedures that they are receiving appropriate care with medical devices that have been sufficiently tested and that have received agency approval for the procedure they are undergoing," said Gary Falkowitz, Managing Attorney for Parker Waichman LLP.
This lawsuit follows an agreement made by VSI in July 2014 wherein it agreed to pay $520,000 to resolve allegations it caused false claims to be submitted to federal health programs, such as Medicare, that were not reimbursable, when it advertised the Vari-Lase devices for the treatment of perforator veins. The whistleblower case is United States ex rel. DeSalle Bui v. Vascular Solutions, Inc., Case No. A10CA883-SS, in the Western District of Texas.
According to Parker Waichman LLP, whistleblowers are crucial to detecting and stopping fraud. This settlement agreement enforces the message that actions will be taken against companies that commit fraud and other wrongdoing.
This is not the first time a device maker has settled with the DOJ. For example, Medtronic Inc. settled with the DOJ in its Medtronic Sofamor Danek division (MSD) regarding allegations of kickbacks paid to doctors to induce them to use MSD's spinal products and other allegedly improper sales and marketing practices. Medtronic, which denied any wrongdoing, agreed to, among other steps, place $40 million in escrow for the DOJ for release to the Department and the whistleblower. Government allegations included that, between 1998 and 2003, Medtronic paid kickbacks in a variety of ways and that these kickbacks violated the Anti-Kickback Statute and the False Claims Act. The Medtronic case is United States of America ex rel. Jacqueline Kay Poteet vs. Medtronic, Inc., et al., Case No. 03-2979 D/A in The United States District Court for the Western District of Tennessee, filed February 1, 2007.
Whistleblowers critical to ending illegal employer activities that may cause harm to consumers and may involve fraud against the government, therefore, under certain circumstances, whistleblowers may maintain their anonymity during most of the whistleblower process, according to Parker Waichman LLP, which supports efforts to protect whistleblowers and offers free case evaluations to those individuals who believe their companies may be involved in illegal practices.
In 2011, a number of spine specialists accused Medtronic of overstating Infuse's benefits and of interfering with what were meant to be independent studies. Following the accusations, Medtronic commissioned an external study of Infuse, the Minneapolis/St. Paul Business Journal report indicated.
The U.S. Senate Finance Committee also discovered issues with most of the initial Medtronic-supported Infuse research that was used to promote the bone growth product, according to an October 25, 2012 Bloomberg Businessweek report. Allegations include that physicians and researchers who wrote at least 11 medical journal reports about Infuse were paid some $210 million in royalties and consulting fees. In fact, Senate investigators also charged that Medtronic deliberately manipulated studies to mitigate any adverse reactions to Infuse side effects, and to promote the off-label use of the product.
Medtronic previously announced plans to record a charge of $120 - $140 million to resolve hundreds of lawsuits brought over its Infuse bone growth product and also agreed to pay $22 million to settle another 950 lawsuits, admitting no wrongdoing or liability. The device maker also previously settled a shareholder lawsuit over Infuse for $85 million in 2012, also admitting no wrongdoing. The original lawsuit was brought by the Minneapolis Firefighters Relief Association in 2008 and was consolidated to class action status in 2009. The case is Minneapolis Firefighters' Relief Association et al v. Medtronic Inc. et al, U.S. District Court, District of Minnesota, No. 08-06324. "Medtronic's actions violate the trust patients have in their medical care. Medical journal articles should convey an accurate picture of the risks and benefits of drugs and medical devices, but patients are at serious risk when companies distort the facts the way Medtronic has," Senator Baucus said. "Patients everywhere will be better served by a more open, honest system without this kind of collusion," Senator Baucus added, according to an October 2012 report issued by The United States Senate Committee on Finance.
Parker Waichman LLP comments that it is aware that patients may be harmed during medical procedures and as a result of the use of medical devices and is available to assist those individuals who have suffered injuries related to these procedures and medical products. "Consumers have a right to be assured that the devices and products used during their surgeries and medical procedures are safe and effective," said Gary Falkowitz, Managing Attorney at Parker Waichman LLP. "Given all of the recent findings associated with Infuse, one has to wonder whether its benefits actually outweigh its dangers."
Parker Waichman LLP continues to offer free lawsuit consultations to victims of Medtronic Infuse injuries and victims of injuries due to allegedly defective medical devices. If you or a loved one experienced complications following Medtronic Infuse surgery or surgery involving the VIS Vari-Lase system, please visit the firm's Medtronic Infuse page. Free case evaluations are also available by calling 1-800-LAW-INFO.