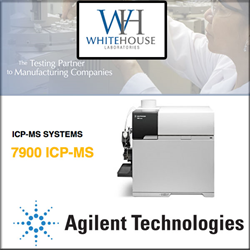 Once again Whitehouse Laboratories is excited to announce this new service offering as a way to help current and new clients meet the new stringent requirements as it relates to heavy metals testing
New York, NY (PRWEB) December 04, 2014
Whitehouse Laboratories, in its continual effort to meet both client and regulatory testing requirements, is pleased to announce that it has made a capital investment in an Agilent 7900 ICP-MS (inductively coupled plasma mass spectrometry) system in order to meet the new United Stated Pharmacopeia requirements for elemental impurities analysis as outlined in proposed general chapters 232 and 233. These new USP chapters are designed to place strict new standards on the presence of heavy metals in drug products. Based upon previous experience and success in partnering with Agilent, they were selected as the most ideal vendor to partner with for this major advancement in our testing service platform. The instrument will be able to detect metals and non-metals at concentration levels down to parts per trillion by ionizing samples with inductively coupled plasma followed by mass-to-charge separation using a quadrupole mass spectrometer, which selectively separates the selected analyte from all other ions. Detection is achieved by the unique orthogonal detector.
The new improvements to the USP procedure are necessary to update the existing USP 231 chapter which currently relies on a non-sensitive, colorimetric method that is extremely limited in the number of metals and quantity that can be detected. The new Agilent 7900 ICP-MS will enable Whitehouse Laboratories to offer the new USP 233 testing that is based upon methods that can detect elements of interest specifically, accurately and with high sensitivity thus enabling method detection at levels of parts per billion and lower. The rollout of the revisions to the USP chapter will begin in 2015, starting with specific monographs. By December of 2015 all new and updated procedures, effective across the USP spectrum will be fully implemented.
"Once again Whitehouse Laboratories is excited to announce this new service offering as a way to help current and new clients meet the new stringent requirements as it relates to heavy metals testing," offered Mark Stier, Chief Operations Officer of Whitehouse Laboratories. "In addition, we are glad to once again be partnering with Agilent as we have always worked very well with them on previous instrument-based capital investments. They completely understand our needs and work to develop product solutions that help us stay in front of the regulatory environment."
"We welcome the opportunity to once again assist Whitehouse Laboratories with the purchase, installation and training of the 7900 ICP-MS unit, " commented Agilent's Toshifumi Matsuzaki, General Manager ICP-MS. "We are pleased to see how clients like Whitehouse Laboratories understand the strong value proposition Agilent delivers in terms of instruments, supplies and technical support."
The Agilent 7900 ICP-MS is the most robust ICP-MS on the market, providing the highest sensitivity and analytical performance. Exceeding the requirements set by USP, the 7900 ICP-MS offers superior matrix tolerance, analyzing samples with the highest percent total dissolved solids (up to 25% TDS). It also delivers unmatched interference removal using He-only mode with kinetic energy discrimination, and it provides the widest dynamic range, offering analysis of parts per trillion and to percent levels detection in the same analytical run (11 orders linear dynamic range.) Together with Agilent MassHunter software and USP-specific preset method, the Agilent 7900 ICP-MS brings to Whitehouse Laboratories the most complete workflow solution for analysis of the proposed USP 232/233 methods.
About Agilent
Agilent is a leader in life sciences, diagnostics and applied chemical markets. The company provides laboratories worldwide with instruments, services, consumables, applications and expertise, enabling customers to gain the insights they seek. Agilent's expertise and trusted collaboration give them the highest confidence in our solutions.
About Whitehouse Laboratories
The Testing Partner to Manufacturing Companies, Whitehouse Labs is an FDA regulated, DEA Licensed, ISO 17025 and ISTA certified contract service provider to the pharmaceutical, medical device, personal and consumer product industries. Whitehouse Laboratories offers analytical services for the testing of materials, finished products, container and package systems that enable our clients to meet and exceed the required quality standards established by the key regulatory agencies