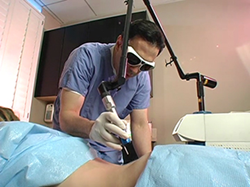 Los Angeles, CA (PRWEB) November 26, 2014
According to the author of a Harper's Bazaar report dated November 25, 2014 and titled "What Tattoo Removal Really Feels Like," the treatment she received was painless. Laser tattoo removal uses a laser to break down a tattoo's ink pigment into particles small enough to be absorbed into the bloodstream and expelled from the body. The specific technology reported on uses ultra-short (one-trillionth of a second) pulses to pulverize the ink into particles. (See: goo.gl/qy7tgx)
"As tattoos have grown in popularity, so has the desire to have some of these tattoos removed," says Dr. Simon Ourian, Medical Director of Epione Beverly Hills. "I've seen estimates that one in three young Americans has a tattoo and for Baby Boomers that number is one in seven.
According to the author of the Harper's Bazaar report, five syringes of lidocaine were injected into the back of her neck where her unwanted tattoo was located. The laser tattoo removal treatment commenced once the doctor confirmed the area was completely numb. As promised, the laser treatment was painless. Post-treatment, once the lidocaine had worn off, the treated area felt raw and itchy like a severe sunburn. Over the next ten days the area blistered and scabbed.
"As the author indicates, it may now be more painful to get a tattoo than to have one removed," says Dr. Ourian. "Laser tattoo removal technology has seen significant improvement over the past few years. We can do a much better job with problematic colors like yellow and red than we could in the past."
Dr. Ourian has been a pioneer in laser technology and non-invasive aesthetic procedures including Restylane, Juvéderm, Radiesse, Sculptra, and CoolSculpting. These treatments are used for the correction or reversal of a variety of conditions such as acne, acne scars, skin discoloration, wrinkles, unwanted fat, stretch marks, varicose veins, cellulite, and others. More information about laser tattoo removal can be found on Epione's website.