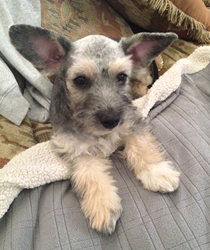 We are also thrilled that Jane Lynch chose Pelusa, a TLRD dog to walk the red carpet with."
Lake Forest, California (PRWEB) November 27, 2014
The Little Red Dog (TLRD), an Orange County-based non-profit founded in 2011, that rescues abandoned and abused dogs and secures their safety in loving homes throughout Southern California, was selected to be featured on Fox Network's Thanksgiving special "Fox's Cause for Paws: An All-Star Dog Spectacular." Airing on Nov. 27 from 8-10 p.m. ET/PT, the program will be hosted by two-time Academy Award-winner Hilary Swank and Glee star Jane Lynch and introduce viewers to rescued dogs, including 14 dogs from TLRD, in hopes of finding adopted homes for the animals and raising support for rescue shelters.
"TLRD is honored to have been selected as one of the Orange County-based animal shelters to join Fox Network in giving viewers the opportunity to adopt pets during the dog-a-thon," said PJ Rosch, co-founder of TLRD. "Rescue dogs are not broken and dangerous animals but are the victims of bad circumstances, and human ignorance, and they deserve to be placed in loving and safe homes. Animals nationwide need our help; there are so many in high kill shelters, and not enough loving homes. We commend Fox for being forward thinking, and we are joining with 'Fox's Cause for Paws: An All-Star Dog Spectacular' to help rescue dogs get adopted by families who want to make a difference this Thanksgiving. We are also thrilled that Jane Lynch chose Pelusa, a TLRD dog to walk the red carpet with."
14 TLRD rescued dogs will be featured on the show for adoption including Lexi and her four pups that were rescued from South Los Angeles by Hope for Paws. Some of the other dogs were rescued from high kill shelters throughout Southern California. Two of these shelter dogs, Sonya & Joy, a bonded pair are featured with Miley Cyrus. The rest of the TLRD dogs featured were discarded like trash by their former owners; all of the TLRD dogs are looking for loving families. Audience members will be able to directly adopt these rescued dogs by submitting an application via online or telephone, as well as have the opportunity to give homes to any of the 70+ TLRD dogs and four cats currently waiting for a loving family. During the two-hour special, viewers will be provided with information regarding adoptable animals in their local areas and have the opportunity to make donations to the Petfinder Foundation, an independent nonprofit organization that supports shelters and rescue groups nationwide. Viewers can donate via a text number provided during the broadcast or online via fox.com/causeforpaws. Donations will be accepted during the broadcast and for a period of time after the show.
Celebrities also will introduce the audience to rescue dogs, giving viewers the opportunity to foster or adopt a new best friend. Kristin Chenoweth, Whitney Cummings, Max Greenfield, Kathy Griffin, Julianne Hough, Randy Jackson, Cesar Millan, Jerry O'Connell, Kelly Osbourne, Sharon Osbourne, P!nk, Amber Riley, Rebecca Romijn, Emmy Rossum and Jenna Dewan Tatum join previously announced celebrities participating in the event, including Paula Abdul, Kristen Bell, Josh Duhamel, Fergie, Carrie Ann Inaba, Scarlett Johansson, Kesha, Miranda Lambert, LeAnn Rimes and Betty White. Also appearing are famous rescue canines The Olate Dogs, who will participate in an exclusive performance honoring all rescue dogs in need of adoption.
TLRD Founders, PJ Rosch & Steve McClain and their team, share a vision of bringing a brighter future to dogs that are abandoned, abused and severely hurt. Nearly eight million pets die in shelters every year. TLRD strives to rescue as many dogs as possible and reduce the number of dogs unwanted and abandoned each year.
To donate directly to The Little Red Dog or to learn more about their work and the adoption process, interested parties can visit http://thelittlereddog.com/welcome.
About The Little Red Dog
The Little Red Dog (TLRD) was founded to rescue dogs from high kill shelters and abusive environments and secure their safety in loving homes throughout Southern California. TLRD was founded in memory of the abused and lost dogs from the Michael Vick dog fighting case and strives to remove and prevent all dog neglect through abuse prevention trainings and adoption coordination. Since 2011, TLRD has rescued over 330 dogs and placed them into loving forever homes. For more information, visit http://thelittlereddog.com/welcome.
#