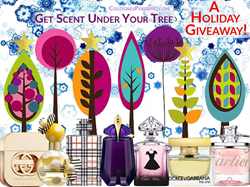 A HUGE THANK YOU to @ColognsPerfume for the Amazing @Creedboutique New #FleursdeGardenia #perfume,(Beautiful bottle) I won! Photo soon! from @FabFashionology via Twitter
(PRWEB) December 04, 2014
New online perfume and cologne department store ColognesPerfume.com is launching Get Scent under Your Tree, a new fragrance giveaway draw for the holidays. They will be sending out more than $500 in gifts to seven fragrant winners. There will be a draw each week until Christmas. Gifts will be bottles of some of the most popular and desirable fragrances on the market.
In the first week, the gifts will be a 1 oz bottle of Honey Eau de Parfum by Marc Jacobs and 1 oz of Alien Eau de Parfum by Thierry Mugler. Week Two's gifts will be 1 oz of The One Eau de Parfum by Dolce & Gabbana and a 1.6 oz bottle of La Petite Robe Noir Eau de Toilette by Guerlain. In the third week one winner will receive 1.7 oz of Guilty Eau de Toilette by Gucci, and another will be winning a 3.4 oz bottle of Goutte de Rose Eau de Toilette by Cartier. The final winner, to be drawn on the 23rd of December, will receive Burberry Brit Eau de Parfum in a 3.4 oz bottle.
Last month ColognesPerfume.com celebrated their launch into online retail by throwing their Launch Party Gift-away for new social media pals on Twitter and Facebook. Bottles of Fleurs de Gardenia, made by high end, multi-generational French perfume house Creed, Yves Saint Laurent's seductive classic Opium and Prada by Prada, from the legendary Italian fashion house, as well as discount promo codes, were drawn by winning participants from the Twittersphere.
Entering the giveaway is simple. Perfume and cologne lovers residing in the U.S. and Canada can enter the new Get Scent Under Your Tree Giveaway at https://colognesperfume.com/contests/ until December 23rd 2014.