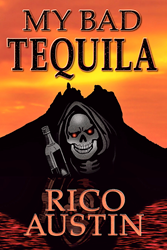 You'll see the true reflection of me when the Tequila bottle is empty.
Evergreen, CO (PRWEB) December 31, 2014
Written by Rico Austin, award winning "My Bad Tequila," is now an audiobook full of mystery, mayhem, madness and Mexico. Produced and published by Brook Forest Voices the audiobook will be released January 23, 2015.
It's the crazy '80s and a group of students from Boise State University are headed to Mexico for spring break. Amongst them is Rico Austin. In his semi-autobiographical "My Bad Tequila," he speaks of one man's epic journey across two continents and four countries with 50 years of adventure. Tragedy takes place in 1986 as one event changes everything forever, devastating to the lives of 19 students, 3 chaperones and 1 bus driver. As Rico states in the book, "It's all good until it turns bad".
"My Bad Tequila" received numerous accolades and awards that include: #1 Book to Read, June 2011 - NY Professional Reviewer, Fran Lewis, Arizona Authors Association - 3rd Place (Fiction Book of the Year 2011 - 2012), and New Mexico - Arizona Book Awards - Finalist (Fiction - Mystery genre 2012).
Rico now lives in Scottsdale, AZ, yet was born and raised in Southwestern Idaho amid the fields and vineyards of the Snake River Valley. His adventures, and misadventures, include: being a walk-on to the football program at Boise State University, doing stand-up at Boise's former Comedy Club, attending and receiving degrees from BSU, Grand Canyon State and the Thunderbird School of Global Management, teaching English (ESL) in Vilnius, Lithuania, starting on the American Football Team for the Staffordshire Stallions all while attending Staffordshire University in England AND having a cameo on the television series Baywatch in the role of a drug lord on a huge yacht.
About Brook Forest Voices: a complete audio production studio located just west of Denver in Evergreen, CO, specializing in audiobook narration, production and publishing. BFV is designed to help large and small publishers, as well as authors, with all their audio needs. Publishers and authors wanting to learn more can visit http://www.brookforestvoices.com or contact Jaime Andrade, BFV Business Manager at 303-670-4145.