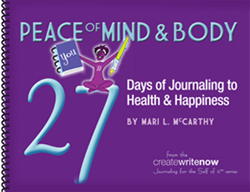 "The 27 Days Challenge is best suited for experienced journalers who understand the importance of a daily pen-to-page practice."
Boston, MA (PRWEB) December 01, 2014
CreateWriteNow's much lauded journaling program, Peace of Mind and Body: 27 Days of Journaling to Health & Happiness will kick off Thursday, January1st, 2015.
Now in its fifth year and the company's most popular program, 27 Days of Journaling has enjoyed record participation every year since it was first introduced, and continues to receive accolades from participants.
Created by Mari L. McCarthy, founder and Chief Inspiration Officer of CreateWriteNow and journaling therapy expert, the program uses journaling to take participants on a journey of self exploration, healing and growth.
Through a sequence of daily journaling exercises and prompts, participants are encouraged to explore personal challenges, rewire negative mindsets, and craft personal goals that will help them overcome obstacles, build better relationships, and create success in all aspects of their lives—to ultimately achieve greater health and happiness.
In addition to daily writing exercises, the program's related eWorkbook delivers helpful suggestions, inspiration and tips, while an optional Facebook group offers a platform for interaction with direct support and encouragement delivered by Mari McCarthy herself.
The program is ideal for experienced journalers who are ready to make a commitment to a daily journaling practice—and reap its rewards.
Said McCarthy, "The 27 Days Challenge is best suited for experienced journalers who understand the importance of a daily pen-to-page practice." She added, "Of course, both experienced journalers and beginners alike can benefit from journaling, but it's so important to stay committed throughout the complete program. Understanding the importance—and impact—of staying on-track is the key to successful outcomes."
The 27 Days Journaling Challenge is provided free of charge to participants. The related eWorkbook—and a pen!—is all that is needed to join. The eWorkbook can be purchased in the CreateWriteNow store and is available as an eBook and well as other formats including an audio book as well as downloadable versions for iPad, Kindle, NOOK and Sony Reader.
About CreateWriteNow
CreateWriteNow teaches individuals how to use the power of daily journaling to achieve self-discovery, personal transformation and perfect health. Founded by Mari McCarthy, who has used the power of daily journaling herself to overcome many of the debilitating effects of Multiple Sclerosis, the company publishes regular articles, journaling prompts, videos and eBooks and holds a number of interactive journaling challenges throughout the year.
Learn more at http://www.createwritenow.com
Learn more about the Who Are You? 7 Days Self Discovery Journaling Challenge here:
http://www.createwritenow.com/who-are-you-journaling-challenge/
Contact: Mari L. McCarthy
mari(at)createwritenow(dot)com
(781) 635-5175
Twitter: https://twitter.com/CreateWriteNow
Facebook: https://www.facebook.com/CreateWriteNow
LinkedIn: http://www.linkedin.com/company/create-write-now
YouTube: http://www.youtube.com/user/MariLMcCarthy/videos