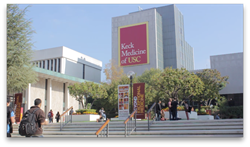 "The USC Eye Institute offers comprehensive eye care, and each physician contributes a unique specialization to the mix" - Rohit Varma, MD
Los Angeles, CA (PRWEB) December 01, 2014
The University of Southern California (USC) Eye Institute, whose faculty physicians serve patients in six locations in the Los Angeles area, has recruited two new directors to lead its cornea and neuro-ophthalmology programs.
Ophthalmologist and corneal specialist Jonathan C. Song, M.D., has been appointed director of the division of cornea and external disease. Song, who has conducted extensive research on corneal transplantation in children, returns to the Keck School of Medicine of USC as associate professor of clinical ophthalmology from the Wilmer Eye Institute at Johns Hopkins.
Vivek R. Patel, M.D., has been appointed director of neuro-ophthalmology and adult strabismus. Patel comes to USC also from the Wilmer Eye Institute at Johns Hopkins, where he was an assistant professor of neuro-ophthalmology. He now holds the title of associate professor of ophthalmology at the Keck School of Medicine of USC.
"The USC Eye Institute offers comprehensive eye care, and each physician contributes a unique specialization to the mix," said Rohit Varma, M.D., M.P.H., the institute's director and professor and chair of the Department of Ophthalmology at the Keck School of Medicine of USC. "Drs. Song and Patel are among the best and most experienced in their respective specialties, helping us broaden the depth and breadth of services we offer."
Song completed his residency at the Los Angeles County + USC Medical Center and fellowship at Children's Hospital Los Angeles. He received his medical degree from the University of California, San Francisco, and completed an internship in translational medicine at Harbor/UCLA Medical Center.
Patel received his undergraduate and medical degrees from the University of Saskatchewan and is also board certified in Canada. He completed his internship and residency training in ophthalmology at McGill University prior to completing fellowship training in neuro-ophthalmology at the USC Eye Institute.
###
ABOUT USC EYE INSTITUTE
The USC Eye Institute, part of Keck Medicine of USC, is led by Rohit Varma, M.D., M.P.H., and has more than 20 full-time faculty physicians covering all subspecialties of ophthalmology. USC's ophthalmology program has been ranked in the Top 10 by U.S. News & World Report for 20 years and is No. 3 in research funding from the National Eye Institute. The USC Eye Institute is headquartered near downtown Los Angeles and has satellite clinics in Pasadena, Beverly Hills and Arcadia. For more information, go to eye.keckmedicine.org.
ABOUT KECK MEDICINE OF USC
Keck Medicine of USC is the University of Southern California's medical enterprise, one of only two university-based medical systems in the Los Angeles area. Encompassing academic, research and clinical excellence, the medical system attracts internationally renowned experts who teach and practice at the Keck School of Medicine of USC, the region's first medical school; includes the renowned USC Norris Comprehensive Cancer Center, one of the first comprehensive cancer centers established by the National Institutes of Health (NIH) in the United States; has a medical faculty practice, the USC Care Medical Group; operates the Keck Medical Center of USC, which includes two acute care hospitals: 401-licensed bed Keck Hospital of USC and 60-licensed bed USC Norris Cancer Hospital; and owns USC Verdugo Hills Hospital, a 158-licensed bed community hospital. It also includes more than 40 outpatient facilities, some at affiliated hospitals, in Los Angeles, Orange, Kern, Tulare and Ventura counties.
U.S. News & World Report ranked Keck Medical Center of USC among the Top 10 in ophthalmology (No. 9), and among the Top 25 hospitals in the United States for urology (No. 20) and cancer care (No. 23). The medical center was also awarded an "A" grade from The Leapfrog Group in 2014, representing outstanding patient safety practices and overall patient outcomes.
For more information, go to http://www.keckmedicine.org/beyond