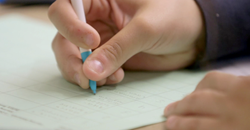 It's about connecting to the audience
Chicago, IL> (PRWEB) November 28, 2014
Chicagoland based media production company Absolute Vision Media and Productions is in the midst of developing new, informational video content for McCauly High School. An all-girls Catholic school, McCauly was interested in communicating thoughtfully with existing students and reaching out effectively to potential and new students. McCauly sought out the services of Absolute Vision Media and Productions, known in the Chicagoland area for its Emmy-nominated team of video professionals. This recruitment- and student-oriented video series has been extremely well received.
As a nationally recognized preparatory school, McCauly required a video production entity that would be able to transmit the exceptional qualities that makes McCauly a respected name in Catholic education. Absolute Vision Media and Productions is slated to produce between four and five videos over the course of the next year, for recruitment, junior high market, and alumni services.
Absolute Vision Media and Productions was no stranger to the process of creating recruitment videos, having completed training and educational videos for a wide variety of clients. "It's about connecting to the audience," said Mark R Smith, founder and president of Absolute Vision. "In this case, we spent a lot of time thinking about just how to connect this information in a way that not only represented McCauly High School but also the McCauly High School student. We're really proud of the results." A recent video can be viewed in the video gallery of the Absolute Vision web site.
Schools invest in video production services in order to effectively communicate with current and prospective students. Having experience already with that target market, Absolute Vision Media and Productions is well positioned to continue creating compelling video that connects with kids to help educate and instruct. To contact Absolute Vision Media and Productions about creating videos, email info(at)AbsoluteVisionMedia(dot)com.
Absolute Vision Productions is a Chicago-based media and production company, and part of the Absolute Vision Media Inc. creative group. Whether for agency-style media, professional video production, local production crew, or general marketing and advertising, Absolute offers national-level experience with local connections and know-how for corporate, educational, commercial, and creative purposes. To learn more, visit http://www.AbsoluteVisionProductions.com.