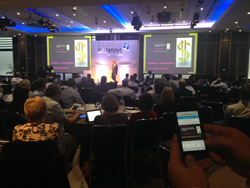 Running live polls and Q&A sessions gave us new avenues to explore at the event ...We were very impressed with the level of support and attention to detail provided by Lintelus," commented Jonathan Sharp, Britannic Technologies
Mission Viejo, CA, (PRWEB) November 26, 2014
Lintelus, Inc., an event software provider, premiered their browser-based presentation platform, focused on increasing audience engagement at Convergence Summit 11th Annual Event, produced by Britannic Technologies. Lintelus' software platform includes a multitude of interactive features designed to connect the audience and presenter in a collaborative, interactive multi-screen environment. Best of all, attendees can access the meeting and the presentation in real time on their own device.
Approximately 200 CIOs all across the United Kingdom attended this annual event where the focus was leveraging communication technology to increase business within the telecom industry. This annual event provides delegates with practical information and ideas for enhancing business operations through the use of technology as well as hands-on demonstrations and the opportunity to meet industry experts in our exhibition zone throughout the day.
Through Lintelus' browser based solution, Britannic Technologies was able to schedule the sessions complete with speaker information, share presentation slides with attendees and conduct live polling with real-time feedback. Attendees also connected with fellow attendees through public and private chat sessions.
"It is important for us as a technology business, running technology events, to demonstrate our understanding of technology by embracing new ones," commented Jonathan Sharp, Sales and Marketing Director, Britannic. "I wanted to engage our audience in new ways and to provide them with new methods of interacting. This was our 11th Annual Convergence Summit and, without a doubt, one of the best. Running live polls and Q&A sessions gave us new avenues to explore at the event and our audience had new opportunities to annotate slides live, on their mobile devices, tablets and laptops. We were very impressed with the level of support and attention to detail provided by Lintelus."
For more information on how to enhance your next meeting, event or presentation, please visit our website at http://www.lintelus.com.
About Lintelus Inc.
Lintelus enhances how presentations are experienced with interactive features including slide sharing, digital note taking, live polling and social media, designed to energize slide presentations, engage participants and personalize the event in a collaborative multi-screen green meeting environment. For more information or for a live demo, please contact us at info(at)lintelus(dot)com.
For media inquiries, contact:
Dina Scaglione, Director of Marketing
949.910.9401