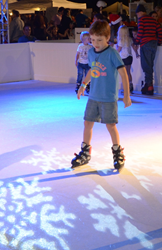 Sunny Isles Beach, Florida (PRWEB) November 27, 2014
From December 1 to 14, 2014 the City of Sunny Isle Beach has a wide variety of events and activities planned for residents and visitors. Check the website at sibfl.net for up-to-date information.
Mark your calendar for these useful, cultural, and fun events in December:
On December 3, 7:00 – 8:30 pm the Four Season Cultural Series will present the quartet in residence from Florida International University, Amernet String Quartet at the Norman S. Edelcup SIB K-8 School. Also that week on December 4, from 10:00 am – noon the monthly Medical Lecture Series will be presented by Mount Sinai in the City Commission Chambers.
The weekend brings a triple treat with a double punch on Sunday: December 5, 9:30 am – 2:30 pm, MiniFLOW: Florida Licensing on Wheels, Driver's License & Photo ID Renewal in the First Floor Meeting Room. Saturday, December 6, 5:00 – 8:00 pm
Winter Fest at Heritage Park (19200 Collins Avenue) with rides, crafts & photo ops. And Sunday, December 7, 11:00 am – 5:00 pm also at Heritage Park, Ice Skating - A special session of winter fun. For the less athletic crowd, a trip to Ann Norton Sculpture Garden, an art filled mansion that leaves Sunday, December 7, at 9:30 am from the Government Center.
December 11, the monthly Blood Pressure and Glucose Testing will be held in the First Floor Meeting room from 9:00 am – noon. December 14, 6:00 – 9:00 pm the annual Holiday Ball, dinner and dancing with friends will take place in Pelican Community Park, 18115 North Bay Road.
For more information about events or other programs or to purchase tickets or wristbands for events, stop by Pelican Community Park, 18115 North Bay Road or check out the City's website at sibfl.net. Helpful office staff can also answer any questions at 305.792.1706.