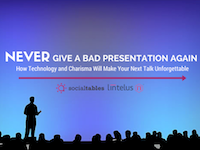 Mission Viejo, CA (PRWEB) December 01, 2014
Lintelus, Inc., an event software provider, is partnering with Social Tables, the industry-leading provider of web-based hospitality software, in a co-hosted webinar titled, "Never Give a Boring Presentation Again: How Technology and Charisma Will Make Your Next Talk Unforgettable."
The webinar will be hosted Friday Dec 5, from 2:00- 3:00pm EST. https://attendee.gotowebinar.com/register/5859612287306841601
In this webinar, Lintelus' SVP of Sales, Jay Cormier, and Social Tables CEO Dan Berger will discuss the importance of storytelling, the pitfalls many speakers make and the technology needed to take presentations to the next level. Attendees will exit the webinar having learned the 5 best practices for connecting with attendees, the 3 mistakes speakers should try and avoid, and the key technologies available to help enhance a presentation.
Interested in joining the webinar? Visit: https://attendee.gotowebinar.com/register/5859612287306841601 to register today.
About Lintelus Inc.
Lintelus enhances how presentations are experienced with interactive features including slide sharing, digital note taking, live polling and social interaction, designed to energize slide presentations, engage participants and personalize the event in a collaborative multi-screen paperless environment. For more information or for a live demo, please contact us at info(at)lintelus(dot)com.
About Social Tables
Social Tables is the industry leading provider of cloud-based hospitality software that positions venues to work more collaboratively and efficiently with their event and meeting customers. To date, the company serves over 60,000 unique users, including Hyatt Hotel Corporation, Live Nation Special Events, Wolfgang Puck, and Harvard Business School.
For media inquiries, contact:
Dina Scaglione
Director of Marketing, Lintelus
949.910.9401
Claire Harrington, CMP
Manager, Communications, Social Tables
309.721.1225