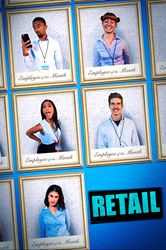 Los Angeles, CA (PRWEB) November 27, 2014
Brilliant new web series "Retail" is a must see, giving the world some fresh new comedy and revolutionary technology. In the realm of Workaholics, 40 Year Old Virgin, and The Office, "Retail" takes us on a wacky ride with a dynamic group of sales professionals (Derrick Redford, Kevin L. Walker, Donnabella Mortel, Jen Kater, & Dianna Dimino) as they navigate through the eventful world of retail sales, while cleverly bridging the gap between the experiences of sales associates and consumers. Hilarity that makes viewers cringe while demanding their attention, "Retail" infuses genuine awkward moments with brilliantly sharp, bright, and light-hearted comedy.
"Retail" reveals what is sure to be one of the hottest selling items in 2015. The 'Space Chariot' ( http://www.SpaceChariot.com ).
Executive produced by actors Kevin L. Walker (Vigilante Diaries, The Young & The Restless), Derrick Redford (Freshwater, Chatter), and Donnabella Mortel (Jane the Virgin, Savages, House M.D.), and already scheduled to include a variety of cameos by talent such as, but not limited to Noel Gugliemi (Training Day, Bruce Almighty, Furious 7), and Timothy DeLaGhetto (Nick Cannon's Wild 'N Out, Guy Code), "Retail" is a simple yet brilliant piece of work, completely adaptable to all media platforms.
For more information on the web series "Retail" check them out on:
YouTube: https://www.youtube.com/channel/UCH1jheiOCjEAIY6D3-6znuQ
Imdb: http://www.imdb.com/title/tt4224144/?ref_=nm_flmg_act_5
Facebook: https://www.facebook.com/RETAILwebSERIES
Twitter & Instagram: @RETAILwebSERIES
For more information on the "Space Chariot" -- http://www.SpaceChariot.com
Artwork by Josh Sep