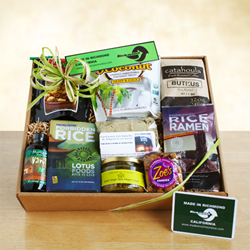 "The Made in Richmond gift box is a testament to the diversity and businesses that make Richmond a premier destination in the Bay Area," says Bill Lindsay Richmond City Manager. "We are proud to showcase the gourmet options that are continuing to grow in.
Richmond, CA (PRWEB) November 28, 2014
Richmond, CA is best known for its unique history and role in the World War II home front effort. Between 1940 and 1945, tens-of-thousands of workers from all over the country streamed into the City to support wartime industries. Richmond's industrial history was highlighted by the Kaiser Shipyards which housed the most productive wartime shipbuilding operations of World War II, launching 747 ships during the war. Now Richmond is diversifying beyond its historic reliance on heavy industry and evolving into a "home front" for innovation in biotechnology, green technology, alternative energy and diverse food manufacturers. Richmond's dynamic business environment is complimented by diverse neighborhoods, pristine marinas, recreational and cultural amenities and more shoreline than any city in the San Francisco Bay Area.
This holiday season we encourage you to share Richmond's new energy with family, friends and coworkers. Just in time for Black Friday and Small Business Saturday, Richmond has developed a wonderful new gift box beautifully prepared by California Delicious, a local business dedicated to creating gourmet selections from across California in spectacular gift baskets and celebration packages. The City of Richmond and the Richmond Economic Development Commission worked together to develop a gift box with a range of gourmet options made right here in Richmond from our growing Foodie cluster, including: Lemur International, Inc. , Nutiva, Zoe's Cookies, Cassandras Dream Cakes, Catahoula Coffee Company, Oren's Kitchen, Lotus Foods, and Vassell Foods.
"The Made in Richmond gift box is a testament to the diversity and businesses that make Richmond a premier destination in the Bay Area," says Bill Lindsay Richmond City Manager. "We are proud to showcase the gourmet options that are continuing to grow in the Richmond community."
The "Made in Richmond" baskets are available in three different sizes. We encourage you to experience the new taste of Richmond. To find out more information and purchase the Made in Richmond gift box, please visit to California Delicious' Richmond webpage: http://www.californiadelicious.com/california-gift-baskets/made-in-richmond-ca.html