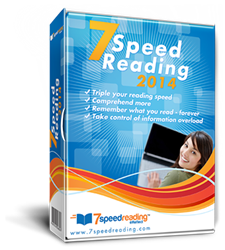 Reading is an important and life-enhancing habit that students must learn early in life
New York City, NY (PRWEB) November 28, 2014
Newell Rubbermaid recently donated 2,500 books to a local school district in Kalamazoo, and has set a learning hub for the Lincoln International Studies School. A Learning Oasis was created with the generous donations of Newell Rubbermaid. The Learning Oasis will help more children access knowledge and exciting facts and information to advance their learning and boost their prospects. Reading skills are an asset, and students can achieve more with this promotion of reading and speed reading, eReflect points out.
As the developer of the speed reading program 7 Speed Reading™, eReflect congratulates Scholastic and Newell Rubbermaid for their generous donation to the Lincoln International School, highlighting the significance of reading and knowledge and the role they play in contributing to students' success and happiness. The donation program means that every K-5 Kalamazoo Public School student can choose five free books to take home and read. As expected, the students were thrilled upon hearing the news of the giveaways made possible by Scholastic and Newell Rubbermaid. "The gift of reading and knowledge is one that's truly priceless and being available to people for free, is a privilege that's beyond one's grasp," eReflect adds.
The Reading Oasis is a special room that has been set up so that students and young adults can visit and read there quietly. The space will be enriched with 1,200 additional books and several props and furniture to encourage students to take up reading in the room. The fact that the Reading Oasis will be accessible to everyone in the community is another vital step towards free access to education and learning. Not only students but their parents and other educational organizations can visit the Reading Oasis.
Reading is an important and life-enhancing habit that students must learn early in life, notes eReflect, and initiatives like the donation by Newell Rubbermaid help make this a reality for more students. Whether a student is learning to read or learning to speed read, the important thing is that reading is becoming an indispensable part of that young person's life.
************
For more information about the benefits of using 7 Speed Reading, please visit the official website at http://www.7speedreading.com.
About 7 Speed Reading™
7 Speed Reading is the only modern speed reading software that uses the latest technology to produce superior results.
The software provides its users with a new way to master speed reading that guarantees three times the reading speed along with improved memory and comprehension.
The software is poised as the most comprehensive speed reading system anywhere. It contains seven learning strategies, fifteen software activities, video training, advanced tracking capabilities and many more exciting features.