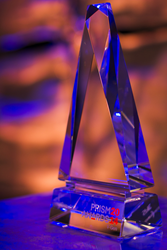 These new products bring valuable new capabilities, and the wide range of applications illustrates the ubiquitous influence of photonics in our lives.
BELLINGHAM, Washington, and PITTSFIELD, Massachusetts, USA (PRWEB) November 26, 2014
[Note: This release was updated on 30 December 2014 to reflect a change in finalists in the category of Materials and Coatings. TelAztec, with their product Anti-Reflection Microstructures (ARMs), has relplaced Element Six Technologies.]
Biomedical devices that detect and pinpoint cancer cells with more accuracy, additive systems to enable 3D manufacture at the micro-nanoscale, and sensors that improve highway safety by analyzing road conditions are among finalists in nine categories for the 2015 Prism Awards for Photonics Innovation. The awards are sponsored by SPIE, the international society for optics and photonics, and Photonics Media.
Winners will be announced by industry leaders on 11 February during SPIE Photonics West in San Francisco at a gala banquet that has become one of the largest gatherings of CEOs and other VIPs in photonics.
Past presenters include industry leaders such as Amazon vice president Babak Parviz, one of the inventors of Google Glass; Mario Paniccia, General Manager of Intel's Silicon Photonics Operation; Mary Lou Jepsen, currently head of the Display Division at Google X as well as founder and former CEO of Pixel Qi and co-founder and first CTO of One Laptop per Child; and Michael Mertin, President and CEO of JENOPTIK AG and President of the Photonics21 Executive Board.
Entries are judged by an independent panel of experts including industry executives, leading academic researchers, venture capitalists, and past Prism Award winners.
"Once again this year, some of the very creative innovators in our dynamic field have presented the Prism Awards judges with the distinct challenge of choosing a few finalists from among a large field of impressive products," said SPIE CEO Eugene Arthurs. "These new products bring valuable new capabilities, and the wide range of applications illustrates the ubiquitous influence of photonics in our lives."
This year's finalist products include devices to identify bacteria in much smaller concentrations than previous methods; to help identify food-safety threats such as E. coli sooner; to monitor and quickly analyze even trace-level chemicals in environmental, manufacturing, or agricultural applications; and to enable new levels of scalability and new 3D capabilities in manufacturing, to name a few.
The diversity of companies, from well-established industry leaders to university-industry startup collaborations, illustrates the influence of photonics on the economy, Arthurs said. "The photonics industry, which annually accounts for around $480 billion in global revenues, serves as both a stabilizing force and as an inspirational disruptor, illuminating the path toward new markets, new revenues streams, and new job creation."
The Prism Awards were developed to recognize innovative products that are newly available on the open market. Each category is meant to isolate a specific contribution in photonics, in a technology area or sector of the industry. Categories have been added, removed, and updated over time to reflect trends in the industry. One winner will be selected from among the three finalists in each category.
Finalist companies and their products are:
Additive Manufacturing

FEMTOprint: FEMTOPRINT
LUXeXcel: Printoptical Technology
Multiphoton Optics: LithoProf3D
Biomedical Instrumentation

BacterioScan: Laser Microbial Growth Monitor
Clearbridge Biophotonics: Fourier Ptychographic Microscopy
TomoWave Laboratories: Laser Optoacoustic Imaging System (LOIS-3D)
Detectors and Sensors

Hamamatsu: Micro-spectrometer (C12666MA)
Lufft: MARWIS
OndaVia: OndaVia Analysis System
Imaging and Cameras

Advanced Scientific Concepts: Peregrine 3D Flash LIDAR Camera
ESPROS Photonics: OHC15L
Seek Thermal and Raytheon: Seek Thermal Camera
Industrial Laser

Cobolt: Cobolt Odin
IPG Photonics: GLPN-500-R
JDSU: PicoBlade
Materials and Coatings

ALPhANOV: Laser-engineered surfaces
Inrad Optics: Stilbene Scintillation Crystals
TelAztec: Anti-Reflection Microstructures (ARMs)
Optics and Optical Components

Corning, US Conec, and Intel: MXC Connector
Varioptic, a Business Unit of Parrot: Visayan 80S0
Vescent Photonics: SEEOR (Steerable Electro-Evanescent Optical Refractor)
Other Metrology Instrumentation

Mahr: TWI 60
Polytec: MSA-100-3D Micro System Analyzer
WITec: RISE Microscopy
Scientific Lasers

Fianium: WhiteLase SC400-20
Northrop Grumman – Cutting Edge Optronics: 7.5 Joule Laser Amplifier
Optonicus: Intelligent Fiber-Collimator Array (INFA)
Many of the finalists will exhibit in the Photonics West Exhibition (10-12 February) and BiOS Expo (7-8 February).
About SPIE
SPIE is the international society for optics and photonics, a not-for-profit organization founded in 1955 to advance light-based technologies. The Society serves more than 235,000 constituents from approximately 155 countries, offering conferences, continuing education, books, journals, and a digital library in support of interdisciplinary information exchange, professional networking, and patent precedent. SPIE provided over $3.2 million in support of education and outreach programs in 2012. Learn more at http://www.spie.org.
About Photonics Media
Photonics Media, a business unit of Pittsfield, Mass.-based Laurin Publishing Co. Inc., publishes Photonics Spectra, BioPhotonics, EuroPhotonics, Photonics Buyers' Guide and Photonics.com. With a collective subscriber base of more than 150,000 worldwide and more than 2 million website visits per year, Laurin Publishing's Photonics Media products and publications lead the photonics industry with editorial excellence and integrity―fostering a tradition of innovation and progress by sharing knowledge, insights and visions for the future. Learn more at http://www.photonics.com.