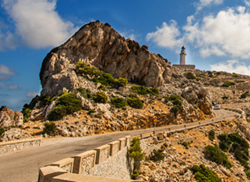 The detail is amazing and the footage is beautiful. I'll often catch myself waving at people in the video!
Toronto, Ontario (PRWEB) November 27, 2014
VeloReality Inc. President Gary Bauer announced the release of the first six new Real Life Videos (RLVs) of world-famous velo courses for the company's VRide software and LYNX VR Trainer, as well as other popular indoor velo trainers. Two dozen additional Real Life Videos videos will also be available worldwide before the end of November -- in time for the 2014 holiday gift-giving season, and will bring the total number of rides in the VeloReality collection to over sixty.
The new Majorca Grand Tour is comprised of six new RLVs that take the rider to the Spanish cyclist's paradise of Majorca. It is a 265 kilometer six leg course that follows a scenic loop around the largest island in the Spanish Mediterranean, which is an extremely popular riding destination for enthusiasts from the EU, USA and Canada.
Used together with the VRide software - which is available as a free download from the VeloReality site - riders have the choice to start any point on the course, and eventually end up back where they started, taking as little or much time as they wish.
Like the existing collection of VeloReality RLVs, Majorca offers the indoor rider an unsurpassed 'real ride' experience, especially when used with the LYNX Trainer. As velo enthusiast and blog contributor Erik Schindler recently wrote on the DC Rainmaker site, "I have a KICKR as well and use the VeloReality software. I personally think it's the best software out there making indoor training both entertaining as well as challenging. The software passes information back and forth to the KICKR and changes the resistance on the trainer to match the actual ride. I've got a video projector setup so I have a 120" screen that I'm riding in front of. The detail is amazing and the footage is beautiful. I'll often catch myself waving at people in the video!"
"With my schedule, it's hard to get outdoor time in consistently and I've found this software has changed my entire outlook on indoor training and I'm actually excited about picking out what route I'm going to ride." He concludes.
As well as the collection new rides being released this month, VeloReality has recently introduced many new features such as same segment racing against your own times, with avatars for ghosts, bots and your own previous times. As a lead-up to internet-based racing, the company will soon be adding an overhead map view to show the progress and position of other riders in your group.
"Our new Majorca Grand Tour is are available online and is priced just like our others." Says Bauer. "Along with our free software, each ride cost € 9.95 each, or about $14, with 10% discounts for Grand Tours with multiple rides, and a 20% discount for the entire VeloReality collection, which ships anywhere on a 1TB hard drive."
####
For more information, please contact us:
Gary Bauer
1-888-480-1114 ext. 1
gary(at)veloreality(dot)com
VeloReality is the privately-held maker of the high end LYNX VR Trainer with unmatched road feel, Cycling training software and cycling videos Built in Toronto, Canada, the LYNX VR Trainer comes with a limited warranty on electronics and a lifetime warranty on drive-train and software components. With a growing library of the world's most famous courses, the reality of the LYNX experience is matched only by the quality of its design, engineering and materials. Ride reality.