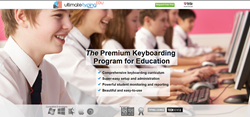 ...the ability to master keyboarding means not just learning how to touch type accurately and with great speed...
New York City, NY (PRWEB) December 01, 2014
eReflect, designer of typing software Ultimate Typing™, congratulates The Verge for their innovative concept video, "A Chorus of Keys." The orchestrated performance narrates the evolution of keyboarding in honor of IBM's Model M keyboard. The Verge used 12 clicky keyboards in their performance, something designed to highlight the continuing advances and evolution in computer hardware and, more specifically, computer keyboards.
From the first Remington typewriters to the iconic Model M keyboard by IBM, then beyond to today's keyless touch keyboards on tablets, keyboards have come a long way since they were first introduced decades ago. In a fast-changing world, the ability to master keyboarding means not just learning how to touch type accurately and with great speed, it's also about being able to easily adjust to new formats and mediums for how that information is entered. As keyboards change in terms of layout, physical structure, and interface, people are expected to instantly know how to effectively use the latest keyboards, eReflect emphasizes.
eReflect and the developers behind Ultimate Typing™ find the orchestrated performance by The Verge's video team an extraordinary attempt to capture the unpredictable, lightning-fast advances in technology. IBM's iconic noisy, robust, Model M keyboard turns 30 in 2015. This keyboard is considered by many to be the basis for most other keyboards. It has inspired thousands of keyboard designs since 1984. A timeless and heavy-duty keyboard, the Model M keyboards still in use today are generally in excellent condition and work properly, even if their accompanying monitors and computers do not.
The Verge's orchestrated performance pays tribute to the unique sound the Model M keyboard is well known for. The IBM Model M keyboard is featured in the video, and the inevitable juxtaposition with Blackberries, tablets and typewriters makes an audible soundtrack to keyboard evolution. eReflect, whose typing software has been praised in several typing software reviews, acknowledges the enduring legacy of this keyboard, saying, "Now considered a vintage keyboard, the Model M keyboard has been one of the most revered and highly emulated keyboard designs ever developed. The Verge, a web-native news platform has done an extraordinary job presenting keyboard design evolution with this orchestrated performance to honor the king of keys, the Model M."
*********
For more details on Ultimate Typing™ please visit http://www.ultimatetyping.com/.
For more details on Ultimate Typing™ EDU please visit http://www.ultimatetyping.com/schools.
About Ultimate Typing™
Ultimate Typing™ software is designed specifically for the improvement of typing skills. Created by eReflect, a world leader in e-learning and self-development software, Ultimate Typing™ has been informed by the latest developments in the science of touch typing.
Since its creation in 2006 by Marc Slater, the company has already catered to over 112 countries all over the world, offering products with the latest cutting-edge technology, some of which are among the world's most recognized and awarded in the industry.