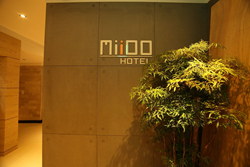 Journeyful booking engine are designed to dramatically improve a hotel's bottom line
(PRWEB) November 28, 2014
Hotel Mido, located in Myeongdong area in Seoul, has selected Singapore-based travel tech startup Journeyful Pte Ltd for their booking engine technology.
"Journeyful is pleased to announce that Hotel Mido has chosen us as their booking engine provider," says Moe Ibrahim, Found & CEO of Journeyful. "Around the clock booking is an important issue to address: with our simple to use tool, our friends at Hotel Mido will enjoy the swiftness and convenience of automated reservations."
The affordable turnkey solution was developed by Journeyful to address the need of boutique and budget hotels. Designed to be both customer friendly and very simple for hotel staff to use the booking engine is intended to fulfill a hotel website's key objective – to convert website visitors into bookings. It can be deployed easily onto a hotel's website, and the hotel staff can be trained to use it – both under an hour.
"Journeyful's booking engine has a luxurious design and integrated easily onto our existing website," says Jang Yong Min, Hotel Manager at Hotel Mido. "We selected the booking engine as we can now secure immediate and guaranteed room bookings from our guests. Confirmation emails with guest details allows us to follow up with our guest and hence reduces the rate of cancelled bookings. Our guests from around the world can view rates in multiple currencies as well."
Focused on helping hotels increase profitability by giving them exactly the tools they need, Journeyful absorbs the integration costs and customers pay the hotel directly upon arrival.
Journeyful booking engine are designed to dramatically improve a hotel's bottom line by enabling more guests to book directly. Developments are underway to improve the booking engine's features, which will be released in the latest versions of technology.
For information about Journeyful.com, please contact press@journeyful.com
About Hotel Mido
Established in 2003, Hotel Mido provides quality accommodation at affordable prices. Located in Seoul, in close proximity to destination attractions such as Chojun Textile & Quilt Art Museum, Sugnyemun, N Seoul Tower and Namsan Park.
Recently renovated, the hotel offers 38 comfortable and well-appointed rooms with complimentary breakfast, high-speed Internet connectivity as well as other amenities that are essential for the modern traveller. In addition to a rooftop terrace and multilingual staff, Hotel Mido features a convenience store and also provides free local calls (restrictions may apply) to its patrons.
For more information about Hotel Mido, visit http://www.hotelmido.com
About Journeyful
Founded in 2010 and based in Singapore, Journeyful.com is a trusted marketplace for hotels to list their properties and customers to book their accommodation at the best prices. Journeyful connects hotels directly to both online and offline customers.
Journeyful develops a suite of apps and provides services to the travel industry. Their product and service portfolio includes: Journeyful.com - a rewards-based online travel agency, Journeyful Travel – connecting retail travel agencies to local communities, and Journeyful MICE – providing full-service solutions for business conferences, corporate events and incentive designed tour groups.
Please visit us at http://www.journeyful.com.
For media enquiries please contact:
Journeyful
Ms. Pallavi Malviya Gupta
Marketing & Communications Manager
Phone: +65 6485 5187
Email: pallavi@journeyful.com | press@journeyful.com