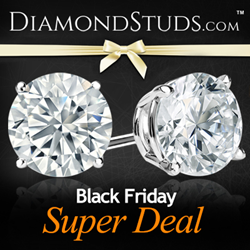 Los Angeles, California (PRWEB) November 27, 2014
The deals have already begun on DiamondStuds.com. This year, they're offering customers phenomenal discounts on select diamond studs, diamond pendants, diamond earrings, and diamond rings with guaranteed free shipping. This is the best time to buy the perfect holiday gift for your friends and family.
DiamondStuds.com is offering 90% off a stunning pair of 1.00 ct certified 14k white, yellow and rose gold earrings. The suggested retail price for the earrings is $3,989, but at DiamondStuds.com they are only $399! They are offering 90% off select pendants and diamond solitaire rings too. These deals will not last long. Not only will you receive a great deal on your purchase, you will have free shipping with your purchase. DiamondStuds.com is the best way to find great deals on jewelry for loved ones this holiday season. If you like an item not listed as a Black Friday deal on DiamondStuds.com, don't worry! Customers can still take advantage of the 10% off sitewide promotion and apply coupon code GIFT10 during checkout. Avoid the crowds and shop online from the comfort of your own home. DiamondStuds.com hopes that these great deals bring happiness to all during the holidays. Be sure to take the opportunity to order from DiamondStuds.com before these offers end.
About DiamondStuds.com:
Armed with a mission of lasting excellence and superior knowledge about diamonds, DiamondStuds.com focuses solely on diamond jewelry. The attention to details allows the company to offer their consumers the largest selection of fine diamond earrings, diamond solitaire pendants and diamond solitaire rings online. DiamondStuds.com also provides a huge array of customization options, enabling each individual to create an exquisite pair of studs, halo earrings, gemstone earrings, fashion earrings, diamond solitaire pendants or diamond solitaire rings unique to his or her personal preferences. To learn more about DiamondStuds.com, please browse the website at http://www.diamondstuds.com. Customers can call DiamondStuds.com at 1-855-WOW-STUDS (1-855-969-7883), to speak live with a diamond expert or send an email to info(at)diamondstuds(dot)com.