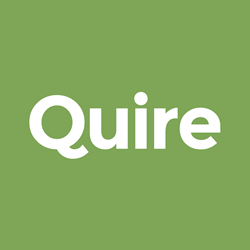 All your tasks, managed in simple UI
London (PRWEB) November 28, 2014
When it comes to project management tools, there are at the least hundreds of solutions out there in the market. Some providers emphasize on fancy features, some opt for project management level end-to-end solutions but project management isn't about the more the merrier, it's about choosing the right one that best suits the user's needs i.e. balanced features, UI and performance
If this is what you've been looking for, Quire is your best option. Quire has a very simple and user friendly UI offering more than it appears. What differentiates it from other project management tools is its unique visual tree structure which allow users to view tasks and their sub-tasks at once, without having to click into a particular task, providing users with the project's big picture at one glance.
Quire is also designed to be a centralized collaboration tool. File attachments, comments, as well as every modification, are instantly reflected for all online collaborators in real time. Real time and e-mail notifications are both available so you'll never miss an important piece of information at work.
Quire beta is currently up and running with new feature updates introduced to make task management more convenient than ever, including but not limited to:

Icons to mark unread comments to better follow a thread
Auto scroll to comment link
Collapsible project list
UX improvements on touch devices
Allow multiple email identities for one user account
Hear what our users say about us!
"I love Quire, it's really all I need! Thank you for making such a great product."
---- Linda Rasmussen, Google
"Quire is everything we've been looking for! Simple, fast yet functional and full of surprise!"
---- Charlene Hsu, Asus
Quire is totally free for sign up here. Project management shouldn't be a burden, it's this easy! Join us now!
About Potix
Potix Corporation develops and supports ZK, the #1 Java based Ajax solution on SourceForge.net, the world's largest open source host. ZK has more than 1,500,000 downloads since its first release in late 2005. ZK is deployed by a large number of Fortune Global 500 companies, including Barclays, Societe Generale, Swiss RE, eBay, Roche, Deutsche Bank, Sony, Sun Microsystems, Audi, EMC and Toyota, providing them with the ability to rapidly create rich Ajax enterprise level applications.
Quire - a collaborative task management tool allowing users to plan and organize tasks in a tree-like structure. It is the most simple and natural way to manage your daily tasks, team projects where you can plan and organize your projects visually and collaborate with your team members in real time.