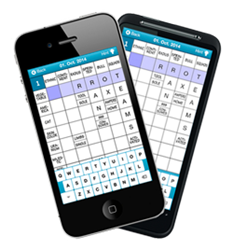 Crosswords - CluesInSquares is single-player chess.
(PRWEB) December 15, 2014
With the launch of the app Free Crosswords – CluesInSquares, DigitalCrosswords is bringing the Scandinavian style of crossword puzzles to America.
The crossword puzzle was invented in America over a century ago, and soon thereafter the popular pastime spread to the rest of the world.
Most countries have maintained the American crossword structure, but in Scandinavia another format was opted for.
Instead of writing the clues outside of the crossword, the Scandinavians placed them inside the puzzle itself, hence the name CluesInSquares. In doing so, the new pastime was adapted to the Scandinavian method of design, where simplicity of both form and content plays a large role.
Solving a Scandinavian crossword is different from the American way, in that it requires a greater ability for combination, since the words overlap to a larger degree. A famous Danish author once remarked that "CluesInSquares is single­player chess."
On the other hand, there is less guesswork in the Scandinavian model, which also correlates with the Scandinavian penchant for simplicity.
CluesInSquares appeals to a broader, as well as younger, audience, since the simplicity also applies to the contents. You're not required to be a crossword nerd in order to enjoy CluesInSquares.
In addition, there's no doubt that CluesInSquares is a perfect fit for mobile platforms.
Free Crossword – CluesInSquares gives its users a free crossword every day. The daily crossword is notoriously addictive, and should perhaps come with a warning!
The app is available in the App Store, as well as in Google Play.