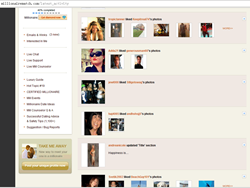 (PRWEB) November 28, 2014
MillionaireMatch.com, the world's largest and longest-established dating site, has launched a newly redesigned site with improved user accessibility for ease of use and a fresh feel. The new design of the millionaire online dating site will make it easier to find a compatible love, with an improved algorithm and interactive features. MM this year celebrated 14 years online and hit the 2.2 million subscriber mark earlier in 2014.
"We're proud of our new redesigned site," said a MillionaireMatch.com spokesman. "We've been steadily adding new features throughout the year, and this marks our 'final unveiling.' Listening to member feedback, these new additions seem to be a welcome enhancement."
Some of the additions include the feature "MillionaireMatch Events" which are real-world gatherings have been popping up at various celebrity-attended events such as the 2014 MTV Music Awards in May and the 8th Annual Red Tie Affair which benefits the American Red Cross. Another new feature is "Take Me Away," designed to showcase the more personal stories, random ideas or anything else that the dater would like to highlight. It's intended to connect those love bridges most efficiently.
MillionaireMatch.com members aren't required to state their income, but for those who are interested in promoting their financial attractiveness, MM offers the "Certified Millionaire" option for successful singles. To be certified, members need to submit their financial details for verifications - either a previous year's tax return showing income over $150,000 or a bank statement or other documentation showing assets over $1 million, as well as identification such as a passport copy or other legal government ID.
MillionaireMatch.com is one of the most prominent luxury dating sites, with media coverage from such sources as Wall Street Journal, ABC, CNN, CBS and Forbes.com which voted it "Best of the Web." Even celebrities have been caught using MM. In the past it was reported that actors Charlie Sheen and Matthew Perry have been members of the site, in addition to the hundreds of doctors, lawyers, pro athletes, CEOs, investors, entrepreneurs, beauty queens and fitness models.
To learn more details or to sign up for a free membership, visit http://www.millionairematch.com.