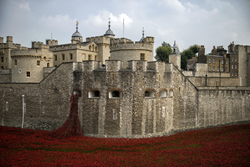 The mailing is an extremely sensitive contract
London (PRWEB UK) 27 November 2014
Long-established courier Fastlane International is concerned that the troubled mailing of ceramic poppies - originally planted at the Tower of London as a memorial installation - is symptomatic of a lack of respect for parcels by hard-pressed budget couriers in the run-up to Christmas.
Fastlane International, which is beginning its thirtieth year in business, says that the ceramic flowers, bought for £25 each by customers moved by the dramatic display at the Tower of London, deserve more respect than to be delivered damaged or even reportedly thrown over gates.
News of the mailing issues was revealed on the BBC's Today programme 27/11/2014. Fastlane's Head of PR, David Jinks MILT says: 'At this time of year, budget couriers employ more temporary staff who are paid for swift deliveries. Obviously the mailing of the 888,246 flowers, commemorating all those British soldiers killed in World War I, is an extremely sensitive contract. It's regrettable that it does appear this mailing has not met the highest industry standards.'
Fastlane, which has established relationships with the major quality carriers such as UPS and DHL, says it is good to see that Historic Royal Palaces has promised to replace any broken poppies or refund customers who do not want a replacement. 'This is an example of best practice, and we applaud such an immediate announcement,' says David.
He adds that, in addition to the quality of deliveries, there also may have been some issues with the original packaging, which were not the responsibility of the under-fire courier used to deliver the flowers.
'Artists Paul Cummins and Tom Piper chose a ceramic material to create their remarkable artwork, which so captured the public's imagination. Ceramics are intrinsically quite delicate, however. We always advise customers to use a rigid box that is strong enough for the goods that you are shipping, to ensure that each item is individually wrapped in bubble wrap or similar, and to make sure each product is suspended inside the box with no part of the product touching the inside walls. This is important because, if there is any impact to the box, if the item is not suspended, the shock can go can through the product and potentially cause it to shatter'
David advises: 'Finally, fill the box with insulation material such as bubble wrap or polystyrene inserts so that there is no movement inside the box.'
Says David, 'Fastlane's long experience and wealth of knowledge about such issues is often useful for these kind of mailings. We offer £50 free liability cover as standard, real-time tracking, UK same-day delivery, booking 7 days a week, all for up to 60% off the price of the Post Office, which is why FastLane is now motoring into its next 30 years.'
For more helpful packing and mailing advice visit: http://www.wedelivertheworld.co.uk/support/guidelines/labelling-and-packaging/