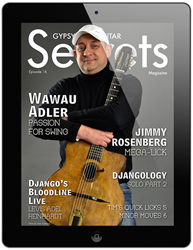 (PRWEB) January 31, 2015
Wauwau Adler features in the 16th issue of Gypsy Jazz Guitar Secrets digital magazine available exclusively on mobile iOS and Android devices. This edition includes captivating video performances of Adler with Robin Nolan, as well as 3 beginners guitar licks video lessons from the legend himself. Each monthly issue of the magazine includes video lessons and performances from the best and brightest Gypsy Jazz guitarists from around the world.
Exclusive live performances, cutting edge lessons, music and interviews inside this month's issue include:
3 Essential Gypsy Jazz Guitar Licks - Wawau Adler
In addition to 3 licks that Wawau Adler himself recommends for beginners to gypsy jazz, a blazing performance of Wawau and the Robin Nolan Trio in Amsterdam is also included.
The Jimmy Rosenberg 'Mega Lick' - Yaakov Hoter
Yaakov Hoter breaks down the incredible Jimmy Rosenberg Mega Lick into easily digestible chunks.
Django Reinhardt Solo - Robin Nolan
A clearly taught and explained video lesson of another Django Reinhardt solo. Comes with a complete music chart to help anyone add this solo to their gypsy jazz repertoire.
Topsy Part 2 - Robin Nolan
Robin Nolan teaches readers a must-know tune, Topsy, whilst also teaching Get this hip how to use bends to pull on the heart strings of your audience.
2 'Gig-Ready Licks' - Dario Napoli & Tim Robinson
2 gig ready licks from Dario Napoli & Tim Robinson which can be used right away to add gypsy credit to guitar solos.
Django's Bloodline - Levis Reinhardt
Django's great grandson Levis Reinhardt reveals his mastery on 'Donna Lee' - straight from Samois, France.
Meet English Red - Tommy Davy
Tommy Davy takes readers back in time to meet English Red, one of Django's friends in the hotclub days. Tommy explores untold stories about the legend of gypsy jazz.
Another jam-packed issue for all fans, students and performers of Gypsy Jazz guitar, this issue can be downloaded via the free app on iTunes or Google Play at:
http://www.GypsyJazzSecrets.com
http://www.GypsyJazzSecrets-Android.com
***
Gypsy Jazz Guitar Secrets
Prinseneiland 63b
Amsterdam
1013 LM
The Netherlands
About Gypsy Jazz Guitar Secrets Magazine:
A unique combination of digital music magazine and Gypsy Jazz Guitar learning experience, Gypsy Jazz Guitar Secrets Magazine brings readers live performances, cutting edge lessons and exclusive music and interviews. The magazine is a digital-only, multimedia magazine available for free download on iPhone, iPad and Android mobile device.