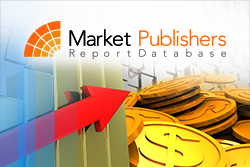 London, UK (PRWEB) November 27, 2014
Market Publishers Ltd and VBI Solution (VBI) signed a partnership agreement for quality market research promotion on Internet. MarketPublishers.com is now authorised to distribute and sell research reports worked out by VBI.
Commenting on the agreement, Natalie Aster, Assistant Manager at Partners Department, said: "VBI is a specialist consulting firm engaged in providing legal services, advisory services and industry research reports aiming at assisting foreign enterprises to enter and grow in the Vietnamese marketplace. The company provides a channel for global businesses in their search for reliable partners within the country and promotes a fair competitive environment for local and overseas companies operating in Vietnam. We are happy to have VBI join our team and give our clients the opportunity to benefit from their high quality products and services."
In-demand research reports by VBI comprise but are not limited to:
Feed Additives Market in Vietnam. The study is an unrivalled source of data and information aiding in understanding the potential of the Vietnamese feed additives market as well as identifying the most favourable approach in operating and/or expanding the presence and/or business in this marketplace. The report provides insights into the market's potential, raw material and product imports, animal production and feed production with each species, government policies, market segmentation, the evolution and development prospects of the sector, customers' behaviours, distribution systems, leading players, competitor activities …
Market Analysis - Copier/Duplicator Market in Education Sector & Distributor Partner Search in Vietnam. The research report provides an extensive and detailed evaluation of the market potential of Vietnam's duplicator/copier market, facilitating the search of, and identification of the most prospective distribution partners in the country. The study presents an overview of the macro economic situation in the country, gives data on the country's GDP and percentage change over 2007-2014, examines the copier/duplicator market structure as well as the current and forecast market size over 2008 to 2015, market share by brands and distributors, breakdown of customer segments in the domestic copier/duplicator market, analysis of the educational system in Vietnam, and the results of quantitative survey, provides profiles of the major competitors and distributors, etc …
More details on the publisher and its reports can be found at VBI page.