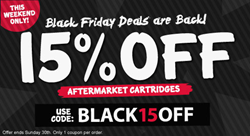 "Black Friday can be a very stressful shopping day, so while waiting online or at home people can buy their printer ink in just a few minutes" Pia Lopez
Los Angeles, CA (PRWEB) November 28, 2014
Because one day is not enough, InkjetSuperstore has a huge discount on their aftermarket cartridge line of 15% the entire weekend. Taking into consideration their branded cartridges more than fifty percent lower than original cartridge package, the savings are colossal. "Black Friday can be a very stressful shopping day, so while waiting online or at home people can buy their printer ink in just a few minutes". shared Pia Lopez, Marketing Manager.
It just takes a few minutes to create an account and register. Once registered it will be easy to enjoy a much speedier checkout because the billing, shipping and account information is saved. They also have a quick reorder option where it would show the cartridges you purchased earlier. Obviously knowing the exact number of printer cartridges is not top priority for anyone but on the left top corner of their upper banner they have an Ink & Toner Finder tool that will find the exact cartridge needed.
The doubt might exists when purchasing third party cartridges instead of the printer manufacturer brand. It is safe to assume that InkjetSuperstore branded cartridges will not be a waste of money. First of all they offer a one year money back guarantee. They also make sure the cartridges go through a re-manufacturing process; checking the integrity of the cartridge housing, integrated nozzles and electronic circuits, replacing the drum and finishing by refilling it with exacting ink or toner formulations. All remanufactured cartridges are thoroughly tested after assembly to ensure they meet or exceed OEM standards.
About InkjetSuperstore
The company serves its consumer customers through its retail Websites Inkjetsuperstore.com and Inkjetsuperstore.ca and focuses on immediate shipping, selection, price, and convenience. Further, it brands its own environmentally friendly ink & toner cartridges.