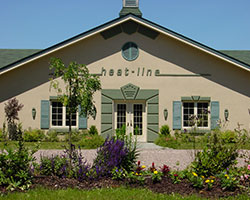 Carnarvon, Ontario (PRWEB) November 27, 2014
Heat-Line Freeze Protection Systems (http://www.heatline.com), is pleased to announce the launch of the latest additions to their company's extensive line of innovative freeze protection products. Retro-FM™ and Retro-DWS™ are advanced freeze protection systems designed specifically to protect sewage, wastewater, and drainage lines from freezing. Heat-Line, a Canadian company located 2 ½-hours northeast of Toronto, designs, manufactures and sells a wide range of advanced freeze protection systems and products, including Heat-Line, Arctic-Vent, Rizer-Line, Kompensator, EDGE-CUTTER, CARAPACE, Retro-Line, and Paladin for Pipe, and many others.
Both the new Retro-FM™ and Retro-DWS™ incorporate Heat-Line's state of the art CSA-approved, self-regulating heating cable system. Utilizing conductive polymer tubular heater technology, they provide a barrier from fluids while maintaining exceptionally efficient freeze protection for sewage, wastewater, and drainage systems. The tubular core of both Retro-FM and Retro-DWS is constructed of high-density polyethylene and will push inside most pipes for long distances.
The Retro-FM system is designed for use in pressurized sewage and grey water force mains and other large diameter pipe applications. Retro-FM can be used as a system to prevent freezing or as a precautionary system. Sold job ready, Retro-FM comes complete for installation and is available with ground-fault protection or cord-set, both in 120-volt and 240-volt.
Designed for use in 4-inch and 3-inch non-pressurized sewage and wastewater drain lines, Retro-DWS can also be utilized to protect other large diameter non-pressurized pipes and storm drains from freezing. It can be easily adapted to fit larger pipe diameters by using readily available, industry-standard components. As with the Retro-FM system, Retro-DWS can be used to prevent freezing, as a precautionary system. Retro-DWS is sold with all the necessary fittings and is supplied with a 4-foot electrical cord lead. It is available with ground-fault protection or cord-set, both in 120 volt and 240 volt.
Contact Information:
Lorne Heise, CEO
Heat-Line Freeze Protect Systems
a division of Christopher MacLean Ltd.
1095 Green Lake Road
Carnarvon ON K0M 1J0
Local: 705-754-4545
Toll-Free: 800-584-4944
About Heat-Line: Offering innovative and energy efficient freeze protection products for the home and cottage, and for commercial, agricultural, industrial and transportation applications, Heat-Line Freeze Protect Systems is a Canadian company that develops and manufactures the most advanced freeze protection systems employing state of the art self-regulating technology. In sub-zero temperatures, you can rely on freeze protection products from Heat-Line to safely and economically keep all of your water systems flowing. Eliminate frozen water lines and prevent water system damage, even in the coldest climates. To learn more about Heat-Line freeze protection systems and other quality Heat-Line products, including Retro-FM, Retro-DWS, Kompensator, Paladin, Retro-Line, CARAPACE, and ArcticVent, visit http://www.heatline.com or call 1-800-584-4944.