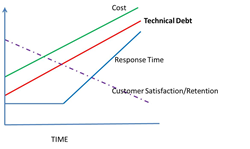 "CMG attendees showed interest in finding new approaches to enhancing performance and reducing resource waste," Rhodes said. "The response of this audience made it clear that CM First should continue to engage with this community."
Austin, TX (PRWEB) November 28, 2014
Computer Measurement Group (CMG) is a volunteer-run, worldwide organization of performance and capacity planners who want to share information and best practices for ensuring cost-effective, efficient delivery of IT services for their businesses. Experts in the remediation of technical debt, CM First Group was offered the opportunity to present to this select group at Performance and Capacity 2014 by CMG in Atlanta, GA this November. http://www.cmg.org
"CM First began to realize the importance of this group of stakeholders in making software decisions," said John Rhodes, CTO. "While the traditional target of sales efforts has to be the developers using these tools, performance and capacity planners understand the criticality of efficient code to end user performance."
Rhodes presented the talk, "Technical Debt – the Secret Drain on Capacity Dollars and Performance," to a rapt audience at the conference. Though many of the attendees understand that application inefficiencies could impact performance, most had no idea of the innovations in remediation available, nor was it as apparent how much these inefficiencies could cost in hardware resources. Rhodes added some key points on the security exposures, increasingly a concern to all IT professionals. The point was made that this is not simply an issue for legacy mainframe code. All applications can be rife with inefficient, problematic code due to time pressure, lack of knowledge and simple mistakes.
"CMG attendees showed interest in finding new approaches to enhancing performance and reducing resource waste," Rhodes said. "The response of this audience made it clear that CM First should continue to engage with this community."
For more information about the subject, check out the white paper CM First has produced. http://www.cmfirstgroup.com/resources/technical-debt-what-is-it-costing-your-company/ Learn more about remediation at: http://www.cmfirstgroup.com/initiatives/application-modernization/
"CM First will continue to speak with performance and capacity professionals about technical debt. In many cases, the biggest impact on performance and capacity can be made by simply fixing the code. CM First can make that task much easier," said Mark O'Brien, Director, Business Development.
About CM First
CM First is a global software and services company with focus on application modernization, custom development of enterprise applications that support high-performing, and agile development teams in three key areas: Application Modernization for IBM Environments, Custom Application Development Architected and Agile, Tools and Technology for Future Development. Many modernization reference customers include Hapimag (travel industry), United Heritage (insurance) and Hartman & Hartman (construction). http://www.cmfirstgroup.com/wp-content/uploads/2013/10/Hapimag-Customer-Success-Story.pdf