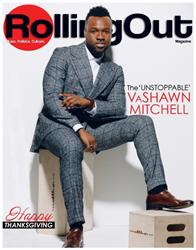 I wanted to create a body of music that from beginning to end would empower....
Atlanta, GA (PRWEB) November 27, 2014
Gospel artist VaShawn Mitchell is firm in his belief that we should always become something. It's what keeps him inspired to continue to create great music. It's also why his latest music project is so powerful.
'Unstoppable' is more than just the title of Mitchell's latest album. It's a movement that he's spearheading. The 13-track project features protégés Anthony Brown and Tasha Cobbs, and highlights a new collaboration with fellow Columbia College attendee Jonathan McReynolds and recurring collaboration with Daniel Weatherspoon. It's an upbeat musical diary that challenges listeners to embrace their individual walk.
A spiritual seeker, Mitchell was reading one of the world's most beloved prayers when seven words spoke to his soul, spawning the production of his seventh album.
"'Unstoppable' is based on the concept. I wanted to create a body of music that from beginning to end would empower, inspire and encourage listeners to walk into your dream, walk into your vision, and allow this music to comfort you when you feel you're taking a detour and you know you have an assignment. You know you want to be an actor, a singer, or whatever you desire to do — but it hasn't happened yet," he says.
Find out what else he had to say during an exclusive interview with Rolling Out's editor-in-chief Yvette Caslin by visiting http://www.rollingout.com.
Be sure to check out the exclusive photo shoot and video footage with celebrity photographer DeWayne Rogers.
About Rolling Out Magazine:
Rolling Out, the nation's largest free urban weekly, is a digital and print magazine that focuses on the black experience in response to entertainment, politics, fashion, culture, sports and lifestyle points of interest. Headquartered in Atlanta, rolling out is positioned as the voice for the African American experience, using its newspaper as a platform in the marketplace to express urgency for education reform, and to document entrepreneurial endeavors and other relevant issues in the Diaspora. For information on Rolling Out, please visit rollingout.com.