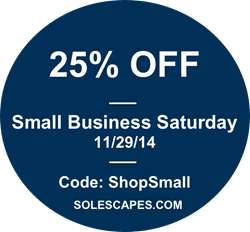 Small Business Saturday is day to celebrate small businesses and show gratitude to loyal customers.
San Rafael, California (PRWEB) November 28, 2014
Small Business Saturday is November 29, 2014, a day to celebrate small businesses and show gratitude to loyal customers. SolEscapes is thrilled to be a part of it, offering a 25% reduction on all regularly priced merchandise using code ShopSmall.
SolEscapes' offering of warm weather vacation resort wear and accessories make excellent holiday gifts. For anyone that loves to escape to tropical destinations during the cold winter months, the gift of a stylish sun hat, fabulous beach bag, sun-protective swim shirt, or resort-ready scarf will be very appreciated.
The Small Business Saturday sale is also a wonderful opportunity to stock up on warm weather essentials. Anyone planning a resort vacation, cruise or beach holiday can take advantage of the discount, and buy sun hats, cover-ups, swim shirts and much more at a discounted price. Another way to put the Small Business Saturday special to good use is to think ahead to Summer, and purchase essentials that will be enjoyed during next year's sunny months.
Here are just a few ways to take advantage of the 25% off Small Business Saturday Sale:
-Persolé Sun Umbrellas - These luxurious parasols are the perfect personal shade, offering fashion and portability wherever sun protection is needed. They're made from sumptuous fabrics with gorgeous patterns and glamorous details. A Persolé parasol makes a very special gift.
-Gottex San Remo Sun Hats – A hat that will be at home in a tropical resort or on a Caribbean resort, San Remo is very stylish with a chain and bamboo accent. It comes in white or black, and either would work in beautifully with a warm weather vacation wardrobe.
-Resort Scarves make a wonderful, thoughtful gift. Hand painted with rich colors, these scarves make an excellent addition to a resort wardrobe. They are as versatile as they are attractive; they can be worn as a wrap on a breezy evening, as a pareo over a swimsuit, and as a punch of color with any outfit.
-Tobago Large Tote Bags – Beach bags are a must-have for a warm weather vacations, they are needed for a day at the beach or pool and helpful on day trips and shore excursions. The Tobago tote bags are a generous 23" by 18", allowing many beach or pool essentials to be packed in them. Yet they can be packed flat so it will easily fit in a suitcase. Their stylish looks, with woven raffia and a colorful stone button will nicely accessorize a vacation wardrobe.
-Gottex Breton Sun Hats – With an ultra wide 6.75" brim, Breton has glamorous looks in addition to first-rate sun protection. The wide stripes black/white or black/gold are very stylish.
-Women's Swim Shirts – A swim shirt (also known as a rash guard) makes excellent sun protection easy. They cover the shoulders, chest and back; areas that are often vulnerable to sun damage. These swim shirts are made of breathable, quick drying fabrics that offer 50+ UPF sun protection.
To shop the Small Business Saturday Sale, simply visit SolEscapes on Saturday November 29th, and enjoy 25% off all regularly priced items when using promo code ShopSmall.
SolEscapes is a California-based online boutique offering a unique selection of stylish and practical sun, beach, and resort essentials for all warm weather needs. SolEscapes offers personalized service, high quality products and fast, affordable shipping. Merchandise, including all beach hats, is carefully and beautifully packaged to ensure a perfect arrival. For more information, please visit SolEscapes.com. You can also connect with SolEscapes on Facebook, Instagram, Twitter, and Pinterest.