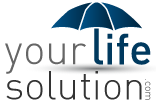 Chicago, IL (PRWEB) November 28, 2014
YourLifeSolution.com, a service which displays life insurance quotes instantly online, has today published an infographic which deciphers the best life insurance product for individuals based on their needs and wants. The service has done this in attempt to clarify some confusion about the necessity or viability of permanent life insurance versus term life insurance. "Term life insurance is best for the majority of situations. Universal life insurance is an excellent option for many consumers looking for better guarantees and whole life insurance is the best option for those with a need for a long term safe savings system with excellent tax advantages," said Eric Smith, the founder and independent life insurance agent of YourLifeSolution.com.
YourLifeSolution.com's infographic spoken of in this press release can be seen here:
http://yourlifesolution.com/lifeinsurancequotes/yourlifesolution-com-releases-infographic-to-outline-best-form-of-life-insurance-based-on-individual-circumstances/
Consumers interested in instantly comparing life insurance quote online are encouraged to do so at YourLifeSolution.com. Information can be obtained by phone at 888.374.2764.