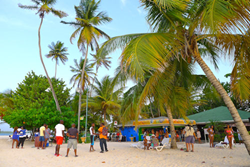 Despite its size Tobago is setting a real example to other Caribbean destinations in terms of responsible, authentic tourism
(PRWEB UK) 28 November 2014
Highlighting what the island has to offer in terms of culture, food, wildlife and nature, the Tobago travel guide now offers a leading resource for travellers wanting to discover what the real Caribbean has to offer beyond the region's legendary beaches.
Responsibletravel.com managing director, Justin Francis, says "Despite its size Tobago is setting a real example to other Caribbean destinations in terms of responsible, authentic tourism.
"With insider tips, podcasts and expert advice from local Tobagonians, our new travel guide gives tourists a chance to discover that a Caribbean holiday can be much more enriching than just a traditional beach break".
Taken from the guide, responsibletravel.com gives 10 reasons to visit Tobago, each offering a unique chance to experience authentic Caribbean life.
1. Board a boat: Its cove-filled coastline and outlying Little Tobago and Goat Islands, are best explored from the water, giving tourists a chance to be a real pirate of the Caribbean.
2. World-class underwater wildlife: Jacques Cousteau rated Tobago's Buccoo Reef as the third most spectacular reef in the world, not surprising that the island has some of the best diving in the Caribbean. The region's underwater world is much more accessible here, with glass-bottom boats offering a glimpse for non-divers and an immersive treat for snorkelers.
3. Turtle time: Discover some of the Caribbean's most secretive residents. Hawksbill and endangered giant Leatherback turtles lay their eggs on Tobago's Caribbean shores, around Courland Bay, Grafton Beach and Mt Irvine Back Bay from March to September each year.
4. Bountiful birdlife: Tiny Tobago has one of the highest densities of birds in the world, from tiny hummingbirds to the blue-crowned mot-mot and even non-birders will be impressed by the number of brightly coloured, iridescent feathered friends.
5. Roam the rainforest: The Main Ridge Forest Reserve has protected the islands trees and main source of freshwater since 1776, when it was a pioneer of conservation. Now visitors can roam the 10,000 acres of untouched rainforest in search of armadillos, hummingbirds, peccaries and iguanas.
6. Local recipes over international imports: Tobagonian cuisine is stubbornly and deliciously local and often the only option served. For real homemade food, to recipes passed down through generations, try the kiosks at the Store Bay Beach Facility, or go more upmarket at the Sea Horse Inn at Mt Irvine Bay.
7. Be a beach bum with a difference: The Caribbean is famous for its beaches, and Tobago had its fair share of the quintessential white sand and turquoise sea. But with close offshore reefs for snorkelling, and hidden golden sand bays only accessible by boat it offers much more than the standard beach break
8. Hail local heritage: With home-grown festivals across the island each month, there's no escaping traditional Caribbean culture on Tobago. The Tobago Heritage Festival, each July & August parades its way around the island, with individual communities showcasing their own cultural highlights, from live percussion, conch-blowing and the 'cocoa dance'.
9. Delve into history: The English, Dutch, French and Latvians have all fought over Tobago, and its colonial history has shaped the island today. Heritage festivals and forts may tell some stories, but the best tales are those told by the Tobagonians themselves.
10. Lime with the locals: Authentic Caribbean culture abounds on Tobago, and visitors are invited to chill, chat and join in. Stop by the famous weekly Sunday School in Buccoo for steelpan music, limbo, craft and food stalls, and with local people and local rum punch it's a true Tobagonian beach party.
To find authentic holidays to Tobago, visit the new responsibletravel.com travel guide at http://www.responsibletravel.com/holidays/tobago/travel-guide
Ends
Notes to Editors:
About responsibletravel.com
responsibletravel.com is the world's leading online travel agent for responsible holidays and a pioneer of responsible tourism. Started in 2001 with backing from Dame Anita Roddick of The Body Shop the site's mantra is 'travel like a local'. It sells holidays that are about more than just a brief stay somewhere - instead it is travel that offers a real connection with the people, the landscape, the culture, the food and the environment. It offers over 7,500 responsible holidays from over 3,000 holiday providers which all support communities and conservation. Handpicked local specialists provide authentic holidays for those seeking adventure, culture, or luxury whether travelling with family, joining a small group, or looking for tailor-made experiences worldwide in places as diverse as the Caribbean - http://www.responsibletravel.com/holidays/caribbean, Bolivia - http://www.responsibletravel.com/holidays/bolivia, or Zambia - http://www.responsibletravel.com/holidays/zambia.
In addition responsibletravel.com:

is quickly becoming the leading online publisher of responsible tourism content with an expanding portfolio of 130 travel guides by February 2015.
founded and organises The World Responsible Tourism Awards, celebrating 11 years at World Travel Market this year.
campaigns for positive change in the travel and tourism industry.
CEO Justin Francis has been included in Courvoisiers The Future 500, Thames and Hudsons 60 Innovators Shaping Our Creative Future and taken his place on the Advisory Board of The International Centre for Responsible Tourism at Manchester Metropolitan University.
The company is based in Brighton's North Laine district, England.
About Tobago
Tobago's charm lies in the unique mix of its offering – beautiful beaches, an abundance of soft adventure activities within lush natural surroundings, friendly, hospitable people making it a perfect holiday choice for families, couples, adrenaline junkies as well as those looking to rest relax and unwind. Less discovered yet culturally more accessible than other Caribbean islands, it's time to Live the Culture Tobago style. http://www.tobagostyle.travel
Contact:
Sarah Bareham
press(at)responsibletravel(dot)com
01273 829 269 (UK)