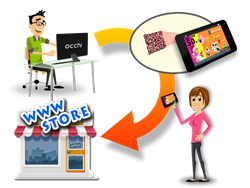 EZ Animation Ad Maker
Tokyo Japan (PRWEB) November 30, 2014
Egg On Egg Corporation released a creative animation ad software for smartphones named OCCHI. Small businesses will be benefited the most by using this application for publishing their ads. All these come with a minimal price of USD9.50.
Occhi allows its users to create a QR-code and use it for publishing their URL. Occhi is expected to be a successful business ad tool.
Occhi's five-step menu consists of (1)Creations, (2)Edit, (3)Sound, (4)Transition and (5)Publish. Considering steps (2) and (3) play less important roles, an animation is actually created following just three steps (1), (4) and (5).
Immediately after installation Occhi prompts its users to import the samples included in the zip file. Users can create their own animations by replacing images inside Occhi's samples.
Occhi's unique way of creating animations includes moving, stretching and rolling background transparent PNG files along with the JPG files. The images may be selected from the user's archives or from the web services like Wikimedia, GettyImages, Fotolia, etc.
Because of the fact that sound effects enrich animations, Ochhi provides more than 100 preset sounds in the menu Step3:Sound. These in-built sound presets are broadly categorised into 5 types. Referring to the sound format, two formats i.e. MP3/OGG are available in Occhi. To allow the animation to be supported by almost all browsers, it is recommended to select both the formats.
Note-1:As of Nov.2014, supported sound-formats are not standardized among the browsers.
Note-2:In case a preset sound is selected, a small copyright notice will be displayed on the right part of the screen.
An Occhi's animation contains one or multiple pages. For example, an apparel industry will have multiple pages like Tops, Bottoms, Sweaters, Jewelry, etc. Occhi's Step4:Transition gives transition effects between pages. There are seven kinds of transition effects in Occhi like Slide, Fade, Easeback, etc. Most of the effects have four additional direction-options making the total number of effects to twenty.
Step5:Publish allows the users to export their creations into a folder. Publication will be completed after uploading the exported folder. To preview the animation, user needs to access the html file inside the uploaded folder. Occhi's QR-code maker in the Step5 helps end-users to access the uploaded html file. A QR-code is automatically created simply by copy/paste the URL into the textfield in Occhi's Step5:QR code. The QR-code can then be saved as a PNG file or taken print out.
There are two kinds of export modes in Occhi Step5 (Fullscreen Mode/Shared Mode). But only Fullscreen Mode is enough to publish for smartphones. Shared Mode Exporting is intended for animations in the PC-oriented html file. In such case, some HTML5 and CSS knowledge is required. For more information refer the help-document in Occhi's Step5.
Nowadays the smartphone oriented ads are playing important roles in internet businesses. Since the softwares are too expensive for small businesses, Occhi may be a hot topic in the small business world.
[Limitation] Occhi does not have the uploading functionality. Please use any free/paid FTP application for this purpose.
[Company Info]
Egg On Egg Corporation is a Software developer specialize in the internet application. It provides several application related in the Google API. Synchronicity and Calendar G are the most popular
applications.
For more information, visit http://www.egg-on-egg.com/