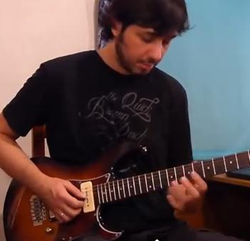 (PRWEB) December 01, 2014
Gaby Soule demonstrates this fusion lead guitar lick that incorporates arpeggios, legato and the use of outside notes from the major scale.
The major scale, aka the Ionian Mode, is a seven tone diatonic scale that is widely used in western music. The eighth duplicates the first at double its frequency so that it is called a higher octave of the same note, which its name is derived from Latin "octavus", the eighth.
An arpeggio is when the notes of a chord are played separately in a sequence. The word comes from the Italian word apeggiare which means "to play on a harp".
Legato is Italian for "tied together" and in musical terms means that notes are played smoothly and connected with no interval silencing between notes. Legato is achieved on guitar when playing a sequence of notes using hammer on & pull off techniques.
Fusion is a musical genre that developed from mixing funk and R&B rhythms and the amplification and electronic effects of rock music, complex time signatures derived from non-Western music and extended, typically instrumental compositions with a jazz approach to lengthy group improvisations, often using wind and brass and displaying a high level of instrumental technique.
Gaby Soule
Gaby Soule is a guitarist, composer and singer originally from Argentina but has lived and worked in Spain as a musician and guitar instructor for many years. He has released several albums with his own projects and with other artists. He's been a member of many bands in Argentina and Spain. Gaby has worked with other groups touring Europe and South America, and played with bassist Rudy Sarzo (Whitesnake, Ozzy Osbourne, and Dio), Walter Giardino (Rata Blanca), La Renga and other artists like Andres Calamaro. He combines his activity as a guitar instructor in Madrid, Spain, as well as being an online guitar teacher. Gaby is currently writing new material for his upcoming project.
About GuitarControl.com
GuitarControl.com is the leader in modern guitar instruction. It's packed with recourses including articles, video lessons, and the best videos in the business for the beginner to the advanced guitar student taught by the best instructors out there. Weather you are into the blues, rock, jazz, metal, folk, or anything in between, they have you covered.