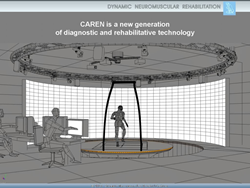 New York, NY (PRWEB) November 28, 2014
The clinic is known for introducing ground-breaking physical therapy techniques such as Dynamic Neuromuscular Stabilization, Extracorporeal Shock Wave Therapy, computer assisted neuromuscular therapy, and gait/motion analysis. After moving to upgraded facilities in 2011, the clinic unveiled their advanced sports and running clinic. Now, owner Dr. Lev Kalika has launched the most advanced and complete movement performance and injury prevention lab in the country.
The new lab allows Dr. Kalika to gather detailed information about each patient's gait, movement style, and muscle function. This information allows Dr. Kalika to prescribe customized therapies for patients including strengthening exercises to improve mobility and prevent future injuries. By gathering and analyzing data over time, the lab will also give therapists objective ways to measure therapy outcomes for each technique both with individuals and for overall population groups. Over time, this data will help therapists prescribe targeted and effective treatment with even greater accuracy.
When Dr. Kalika opened New York Dynamic Neuromuscular Rehabilitation in 1999, options were fairly limited for patients seeking physical therapy in New York. There were practitioners for chiropractic medicine, massage therapists, sports trainers, and traditional physical therapists, each offering services in isolation from the others. Dr. Kalika's vision for his clinic was to offer integrated physical therapy, combining the best techniques and ideas from several disciplines. This was a daring move at the time, going against standard practice for conventional medicine.
Dr. Kalika spent several years in training with innovative physical therapists in Europe, the Czech Republic, and the United States to understand and synthesize a wide range of methods for treating chronic pain and sports injuries. He came to believe that technology paired with human touch can help to heal many muscle and joint injuries. He also came to understand the importance of proper muscular function in injury prevention for athletes.
During the past fifteen years, Dr. Kalika and his staff have crafted a comprehensive program of noninvasive, personally customized, integrative physical therapy to help patients recover from back, neck, knee, and fibromyalgia pain. Dr. Kalika was the first physician in the United States to implement the CAREN system, Computer Assisted Rehabilitation Environment. He was the first practitioner of dynamic neuromuscular stabilization on the east coast, having learned the technique as a student of its creator, Pavel Kolar. Dr. Kalika is also one of only a few physicians who uses diagnostic ultrasound techniques to identify neuromuscular injuries or abnormalities. These therapies bring relief to many people with chronic back pain, knee pain, tennis elbow, neck pain, and chronic conditions such as fibromyalgia. However, Dr. Kalika wanted to go further to help injured athletes and find ways to prevent injuries during sports.
New York Dynamic Neuromuscular Rehabilitation is the only private clinic offering full gait, motion, and running analysis in New York City as part of its running and sports clinic. For Dr. Kalika, the addition of the new movement performance and injury prevention lab seemed like the logical and right next step.
As for the future of his clinic, Dr. Kalika plans to continue to learn, innovate, and integrate new therapies to provide even more options for patients struggling with pain and injuries.
Offering physical therapy in New York from 9 a.m to 7 p.m. Monday thru Friday, the rehab center is located at 130 W. 42nd Street, Suite 1055, New York 10036. The telephone is 866-311-5889. nydnrehab.com