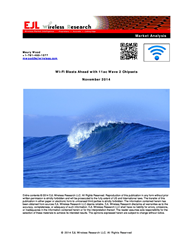 The Qualcomm VIVE Wave 2 chipset has an attractive feature set, including Multi-User MIMO, on a competitive power budget.
Salem, NH (PRWEB) December 01, 2014
EJL Wireless Research predicts that with the emergence of Wave 2 IEEE 802.11ac access point chipsets in 2015, Qualcomm is poised to take share from Broadcom, the current Wave 1 802.11ac market share leader.
"Over the past 12 months, Qualcomm has made strong Wi-Fi access point chipset announcements, including the IPQ806x Internet Processors and companion 802.11ac Wave 2 radios. The Qualcomm VIVE Wave 2 chipset has an attractive feature set, including Multi-User MIMO, on a competitive power budget. This new Qualcomm chipset will battle for access point design wins with the second-generation StrataGX solution from Broadcom, specifically the BCM5852x family of networking processors, plus companion radio transceiver chips. Enterprise and carrier access point OEMs will be evaluating these and other new Wave 2 chipset offerings from Celeno, Marvell, MediaTek, Quantenna and Realtek in the first half of 2015, leading to strategic chipset selections in the second half of 2015. This new EJL Wireless Research report is intended to facilitate these critical multifaceted chipset selection decisions." said Principal Analyst, Maury Wood.
"This report is the first of a series covering IEEE 802.11ac technology that EJL Wireless Research will be publishing through 2015. I am very excited to have Maury on the team and focusing on this very important wireless topic," says Earl Lum, Founder and President.
The report is currently available for purchase and information can be downloaded at http://www.ejlwireless.com.
About EJL Wireless Research
EJL Wireless Research provides proprietary, accurate and cutting-edge market analysis and consulting services on the wireless technology ecosystem and defense and aerospace industries. The firm's wireless infrastructure research division focuses on all vertical elements of the wireless ecosystem including mobile subscribers, mobile operators, mobile handsets, mobile infrastructure and mobile content. In addition, the firm provides analysis across horizontal technology suppliers including RF semiconductor materials, RF semiconductor/components, subsystems and OEMs. Similarly, the defense and aerospace division focuses its efforts on the ecosystem supporting UAV and airborne platforms and subsystems. Our goal is to provide our clients with mission critical market analysis and information.
EJL Wireless Research believes it has a corporate responsibility, both local and international, in giving back to the community. Please visit our website for more information about the charitable organizations it supports at: http://www.ejlwireless.com/corporate_responsibility.html.
EJL Wireless Research is managed by Earl Lum. Mr. Lum has 20 years of experience within the wireless industry including 8 years as an Equity Research Analyst on Wall Street cover the global wireless industry. The company is headquartered in Salem, NH. For more information about EJL Wireless Research, please visit the company's websites at http://www.ejlwireless.com or http://www.ejldefense.com.