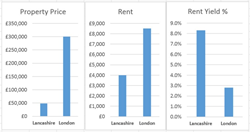 Our best value house in the North West of England now costs just £47,950 and delivers 8% to 9% rental yield. The same 2-bed house on the outskirts of London could cost up to £300,000 and deliver under 3% rental yield
Lancashire, UK (PRWEB UK) 30 November 2014
Overseas investors consider London first when they are looking to invest in UK Property. The property boom in London over the past decade has meant that prices in London are now very high. These high property prices in London with no significant growth in rental has meant that rent yield in many areas of the capital has fallen below 3% as evidenced by data from properties managed by Find UK Property.
On the other hand Rental yields on low cost 2-bedroom terraced houses in Lancashire now approach 9% following the drop in property prices over the past 8 years. This is attracting an increasing number of overseas investors to look outside London for UK buy-to-let property. Consequently Find UK Property has stopped recommending London to new UK property investors.
Andy Noble, Senior Marketing Consultant at Find UK Property said "Non UK Residents including Expats are now looking outside London due to the high prices and low rental yields of the Capital."
He added: "Increasing number of overseas buyers are now looking closely at rental yields to generate income and their research is taking them down the road of buying lower cost terraced property away from London. This generates higher income for the same total value of investment.
About "Find UK Property"
Find UK Property are the 'buyers' agent and specialize in helping serious overseas buyers find the most suitable investment property for their needs. The company conducts regular surveys on overseas investors and findings are printed at their "UK Property News" Blog at http://blog.findukproperty.com.
The most popular purchase are the fully managed low cost houses in the price range of £48,000 to £70,000 that come with full management, repair guarantees, and guaranteed rent. Many clients are seasoned investors who may have purchased investment property in other countries via sister companies Openshore Property and Sandcastles based in Dubai. Further details can be found on the Find UK sales website at http://www.findukproperty.com