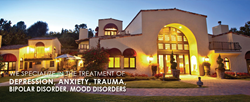 Post-Traumatic Stress Disorder, or PTSD, is an anxiety condition that follows the occurrence of a traumatic event
Malibu, CA (PRWEB) November 28, 2014
Bridges to Recovery has just announced that they are offering a revolutionary treatment system for PTSD at their three locations in California. The facility offers residential treatment for those who desire in-depth options in an environment that is comfortable and inviting. Residential care takes place in a nurturing atmosphere that will be very conducive to recovery. A holistic approach is used, and each patient receives individualized attention through a unique treatment plan that is geared to his or her specific needs. Residences are located in Holmby Hills, Bel Air and Pacific Palisades.
Bridges to Recovery is celebrating 10 years of quality care for those who require assistance in handling disruptive and distressing emotional and mental health issues. Patients who are suffering with PTSD will find the help they need. Treatment may include: nutritional counseling, art therapy, yoga, massage therapy, meditation, weight training and aerobics under supervision, and dialectical behavioral therapy.
There is help for individuals who are suffering through their daily lives due to the debilitating symptoms associated with post-traumatic stress disorder. Bridges to Recovery can pave the way to a happier and healthier life, one that PTSD sufferers may have believed was not possible.
Post-Traumatic Stress Disorder, or PTSD, is an anxiety condition that follows the occurrence of a traumatic event, such as a natural disaster, combat, sexual assault, domestic violence, or any type of life-threatening event. PTSD was previously referred to as battle fatigue or shell shock. An incident that has a profound, stressful effect on an individual can trigger the disorder. It can occur at any age, affecting children as well as adult men and women. Very often, when a person is afflicted with PTSD, other conditions may also arise, such as Depression, alcohol addiction and substance abuse. Medical conditions may occur as well, due to the fact that the body is being subjected to a great deal of stress and anxiety.
Bridges to Recover can be reached directly at 1-877-386-3398