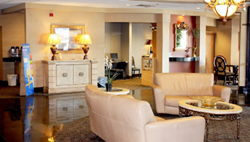 We are so excited to add another hotel to the Kahler family.
Rochester, MN (PRWEB) December 03, 2014
DP Apache Properties, LLC is thrilled to announce the reflagging of the Rochester Ramada to Kahler Apache. Kahler Apache offers comforting hospitality for unbelievable rates near the Mayo Clinic Rochester.
Kahler Apache will work in coordination with the other five Rochester leading Kahler Hospitality Hotels-- Kahler Grand Hotel, The Towers Hotel at the Kahler Grand, Rochester Marriott all three physically attached to The Mayo Clinic and the Kahler Inn and Suites and Residence Inn attached to Mayo through a spacious under ground concourse with over a 138 shops and restaurants.
Featuring an onsite waterpark, Kahler Apache stands out as one of the most family-friendly Rochester hotels with 150 thoughtfully designed guestrooms and suites—featuring upscale bedding and linens, complimentary Wi-Fi, coffeemakers, and even microwaves, refrigerators, and whirlpool tubs in select accommodations. Located within minutes of IBM, Apache Mall and other local businesses, Kahler Apache also serves as a prime destination for business, leisure and medical travelers.
In addition to easy access to top Rochester, MN attractions, guests of Kahler Apache will also be able to take advantage of the some of the enjoyable hotel amenities among Kahler Hospitality Hotels, including:

Complimentary breakfast
Complimentary parking
Complimentary Wi-Fi
Complimentary shuttle to Mayo Clinic
Onsite dining
Fitness center
Water pool basketball hoops
Indoor waterpark
Whirlpool
Business center
8,500 square feet of meeting space
"We are so excited to add another hotel to the Kahler family," said Cherylanne Thomas, Managing Director, Marketing and Sales. "We hope that families and young spirits visiting Rochester find much enjoyment when utilizing the delightful amenities available at Kahler Apache."
In celebration of the reflagging, Kahler Apache is offering rates as low as $69 – guests can make reservations online at the property's website.
About Kahler Apache:
The newest family member of Kahler Hospitality Group, Kahler Apache is a family-friendly hotel near the Mayo Clinic in Rochester, Minnesota. Located within minutes of the Apache Mall, this welcoming hotel offers 150 comfortable guestrooms and suites as well as over 8,500 square feet of banquet space. In addition, Kahler Apache also offers convenient hotel amenities including complimentary breakfast, complimentary Wi-Fi throughout the hotel; complimentary shuttle service to the Mayo Clinic; fitness center with water pool basketball hoops; indoor waterpark with whirlpool; business center with computer usage; onsite dining; and complimentary parking.