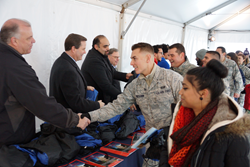 Camden, NJ (PRWEB) November 28, 2014
Congressman Donald Norcross and NJ Senate President Steve Sweeney joined the GI Go Fund in providing hundreds of care packages to current and former military during the annual Battleship New Jersey's Thanksgiving Day Meal for Homeless Veterans and Active Duty Personnel in Camden, NJ.
The Battleship New Jersey hosted its 10th Annual Thanksgiving meal for homeless veterans and active military personnel from Joint Base McGuire-Dix-Lakehurst, giving them and their loved ones a full-course turkey dinner for the holiday. The meal was served by dozens of volunteers in the Battleship's crew's on-board cafeteria. During the event, each veteran was provided a care package that included clothing materials and nonperishable food items as they boarded the ship.
The GI Go Fund is an organization that has been committed to helping veterans and military personnel with finding jobs, receiving benefits, and getting off the streets. For the homeless population, the organization provides care packages to homeless vets during their Midnight Missions, where teams of GI Go volunteers go out before dawn around the state to provide vets with food and clothing, as well as emergency medical assistance, VA benefits counseling, and housing opportunities. The group also hosts an annual Stand Down in Newark to provide homeless veterans with food, clothing, haircuts, medical screenings, and legal aid.
The care packages distributed to the military personnel by the GI Go Fund were assembled by volunteers from the Father Bishoy Youth Group of St. Mary's Coptic Orthodox Church in East Brunswick, NJ to benefit the veterans that the GI Go Fund aims to serve.
"We are always honored to be a part of this great event on the Battleship," said GI Go Fund Executive Director Jack Fanous. "Our primary goal as an organization is to do everything we can to ensure that our veterans who once fought to defend our streets never live on them, and I am so proud to see so many fellow Americans working towards that same goal. This event is incredible at bringing the community of South Jersey together to lend a hand to our current and former military members on Thanksgiving. We thank the Spevak family for putting on this event, as we look forward to spending the holiday aboard the Battleship every year to show our current and former military service members how much we love them."
Norcross and Sweeney, who both serve the Camden area in their legislative capacities, joined the GI Go Fund in handing out the care packages to show their support and appreciation for our current and former service members this Thanksgiving.
"I want all of the men and women of our Armed Forces to know how much we truly care for them," said Congressman Norcross. "They and their families have risked so much for our country, and they all have been willing to sacrifice everything to protect us here at home. So when they come back to the country that they served to protect, they should be given every level of support possible. The Battleship NJ is a collection of nuts and bolts, but those nuts and bolts signify the great men and women who wore our countries uniform, both past and present. I am so thankful to be here today to greet these veterans and their families, shake their hands, provide them care packages with Jack and the GI Go Fund, and wish them a Happy Thanksgiving."
"This is a terrific event," said Senate President Sweeney. "The Battleship NJ signifies so much for our country, both for the sailors who fought on it as they defended our country so many years ago and the importance it signifies to all Americans today. The sailors who fought on this ship worked together to accomplish their mission to protect us, and we now have the same opportunity to honor their efforts by working with each other to help our veterans. The lives of so many military families were touched today, both by the Thanksgiving meals that the Battleship provided and by these care packages that I had the honor to hand out with the GI Go Fund, and I am thrilled to have had the chance to participate in the effort."
In addition to their work aboard the Battleship, The GI Go Fund gave out over eighty $50 Walmart gift cards to veterans in need during the annual Ocean County Veterans Service Bureau's Annual Thanksgiving Turkey Drive in Toms River, NJ. The organization will continue to offer thousands more in gift cards and supplies to veterans in need throughout New Jersey between now and the end of the year.