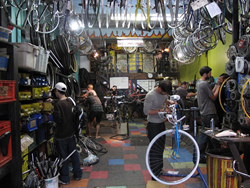 We believe strongly that inclusion begins with our staff
Vancouver, BC (PRWEB) November 28, 2014
PEDAL is a non-profit organization that endeavours to support and promote cycling and sustainable transportation in the Lower Mainland, as well as to foster inclusion, respect and connection within our communities. PEDAL runs a social enterprise called Our Community Bikes, a space where people can come and learn how to repair their own bikes, source recycled components, donate their old bikes or drop their bicycle off for full-service repair. PEDAL also runs programs that provide cheap or free bicycles and repair services for people who may have difficulty accessing them otherwise, as well as after-school programming that strives to help youth become safe and enthusiastic cyclists (see Our Community Bike Clubs!).
What makes PEDAL special is our commitment to respect, dignity and inclusion. Leanne Kavanaugh explains how PEDAL strives to make space for people who may not easily, safely or affordably access bike repair services, usually because of their membership in marginalized communities. "We have a variety of strategies to address inclusion and accessibility, but we believe strongly that inclusion begins with our staff, and in working collectively to create a workplace culture that holds as core values a commitment to dignity, respect, safer spaces, and solidarity with people who experience oppression. Our bike shop, Our Community Bikes, is a place where people from a range of communities and experiences share space and work together.", says Kavanaugh.
Leanne Kavanaugh is a member of the PEDAL worker's collective, and has worked with PEDAL since 2007. She deeply appreciates that she has a job that supports and challenges her to learn from her mistakes and be a better person, and that enables her to support others in the same journey. She also really likes fixing bikes, and helping other people fix their own bikes. Leanne will be talking about the ways that the PEDAL collective works to create a culture of inclusion, and how this manifests in the work we do.
Leanne spoke at Burnaby Neighbourhood House on Thursday Nov.27 for AMSSA's sponsored Inclusion Cafe. The Inclusion Cafe series is a community based initiative that brings people together for discussions about how to grow more welcoming and inclusive communities. The next Inclusion Cafe will take place on Feb.27, 2015. Contact 604-718-2776 for more information.