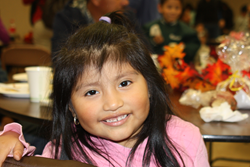 "Having Harvest Dinner with our families is one of my favorite events of the year."
Portland, Oregon (PRWEB) December 03, 2014
On November 24, 2014, Pathfinders of Oregon's Center for Family Success hosted its annual Harvest Dinner in Rockwood. 103 children and 55 adults enjoyed roast chicken, mashed potatoes with gravy and pumpkin pie. Center staff prepared and served the meal. After dinner parents enjoyed talking with one another while their kids played games and created fall-themed art projects. "Having Harvest Dinner with our families is one of my favorite events of the year," said Center Operations Manager, Sandra Casillas.
The good food didn't stop with dinner. Forty families were given a basket provided by the Union Gospel Mission that contained all the fixings for Thanksgiving dinner, including a coupon for a turkey. This is the second year the Union Gospel Mission has partnered with Pathfinders to help families have a happy, healthy Thanksgiving dinner.
The Center for Family Success has been working with high risk and criminal justice involved families since 2005, and has been located in east Multnomah County since 2009. The Center helps families reunite and stabilize. It offers Pathfinders' evidence-based parenting program, Parenting Inside Out in English and in Spanish. In addition to Parenting Inside Out classes, the Center offers a family violence prevention program, Healthy Relationships: Successful Families and parents can take financial literacy classes, renter preparation classes and receive help in preparing for and seeking employment. With the help of Family Advocates and support groups, parents learn to access ongoing support in natural communities, often remaining engaged with the Center for a year or more. Family engagement activities such as the Harvest Dinner are an important part of the program.
The Center for Family Success sponsors the Rockwood Intercultural Student Experience (RISE). The RISE program was created in response to the increasing gang violence in east Multnomah County. It is based on the belief that all youth have the right to engage in healthy prosocial activities, excel in school, and to have a supportive and loving home.
Pathfinders of Oregon is a 501(c) 3 organization whose mission is to break the cycle of criminality. Pathfinders has taught programs within the Oregon Department of Corrections for more than 20 years. In the community it offers programs to families impacted by the criminal justice and child welfare systems through its Center for Family Success in Rockwood, including its Rockwood Intercultural Student Experience (RISE) for middle school youth at risk for gang involvement.