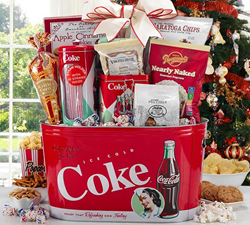 Long Beach, CA (PRWEB) November 30, 2014
This year's holiday season promises to be bigger than ever. Ongoing economic recovery and a global resurgence of appreciation gifts and giving have combined to make this a truly door-busting year at the local shopping mall. Van's Gifts offers a secure, convenient and stress free alternative with specials designed to make Christmas shopping easy on the pocketbook as well as shoppers.
This season, Van's Gifts offers a spectacular discount program tailored for both the individual holiday gift shopper as well as the corporate appreciation list. Starting on December 1st, 2014 and extending through the very end of the day on Friday, December 4th 2014 shoppers will receive 8% off the retail price for every gift basket on the site (Key Code #CYB14), or $25 off of orders over $250 (Key Code #DISC50)! Shoppers can select the offer that suits their budget best, entering the Key Code during checkout to take advantage of these specials.
Van's Gifts – for every occasion, for every taste, for thirty years and counting!
Van's Gifts is celebrating their amazing 30th anniversary in 2014 with massive Cyber Monday discounts, new gourmet food and wine offerings, and gifts featuring your favorite treats along with quality, beautiful baskets and collectible containers for the collector's market and more. This season Van's Gifts proudly partners with Coca-Cola© for a series of Coke© gift baskets featuring the classic Coke© look – the Coca-Cola© Snack Caddy (#F551, $19.95), The Soda Shoppe Gift Tray (#F552, 29.95), and Coca-Cola© Party Tub (#F576, 49.95). Godiva Chocolates is featured in a pair of exquisite offerings for the sweets lovers with the Godiva Chocolate & More (#F581, $49.95) and Grand Godiva Deluxe and More (#F579, $149.95).
Van's Gifts also makes occasion and thank you gifting easy – elegant gift baskets such as the Deluxe English Picnic Basket (#F562, $99.95) make beautiful statements with a tempting collection of gourmet foods in a beautiful woven wicker & wood hamper sure to remind recipients of their gift every time they use it. Van's Gifts also features a wide selection of quality wines in their gourmet offerings – every bottle is from known vineyards (Robert Mondavi, Jordan, Sterling, Kendall-Jackson and many more) and not relabeled or bulk lot rebottles. Van's Gifts has wine gift baskets for every occasion or gifting need, Christmas gifts as well as thank you gifts for client or company, Dom Perignon Champagne Gift (#W776, $279.95) through Wine Caddy / Cellar No. 8 (#W762, $39.95) for any gift or event from elegant through casual and beyond.