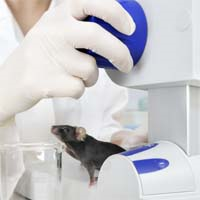 Anti-GM2 antibodies may become a therapeutic option for malignant pleural mesothelioma patients
(PRWEB) November 30, 2014
Doctors at Kanazawa University are testing a drug they say reduced the size and number of mesothelioma tumors in mice. Details on the new study are now available on the Surviving Mesothelioma website. Click here to read the full article.
Researchers at the University's Cancer Research Institute found that 8 out of 11 mesothelioma cell lines tested overexpress a glycolipid called ganglioside GM2. In these lines, the anti-GM2 antibody BIW-8962 exhibited powerful cancer-fighting capabilities.
"These data suggest that anti-GM2 antibodies may become a therapeutic option for malignant pleural mesothelioma patients," writes lead author Dr. Qi Li.
The study in Cancer Science tested BIW-8962 in mesothelioma in the lab and in live mice with similar positive results.
"The location and shape of mesothelioma tumors, as well as their resistance to chemotherapy, leave mesothelioma patients with few treatment options," says Alex Strauss, Managing Editor of Surviving Mesothelioma. "Highly targeted treatments like BIW-8962 may be the best hope for an eventual cure."
To read more about BIW-8962 and its possible use in mesothelioma therapy, see Japanese Doctors Test New Potential Target for Mesothelioma Therapy, now available on the Surviving Mesothelioma website.
Li, Qi et al, "Therapeutic activity of glycoengineered anti-GM2 antibodies against malignant pleural mesothelioma", November 25, 2014, Cancer Science, Epub ahead of print, http://onlinelibrary.wiley.com/doi/10.1111/cas.12575/abstract
For nearly ten years, Surviving Mesothelioma has brought readers the most important and ground-breaking news on the causes, diagnosis and treatment of mesothelioma. All Surviving Mesothelioma news is gathered and reported directly from the peer-reviewed medical literature. Written for patients and their loved ones, Surviving Mesothelioma news helps families make more informed decisions.