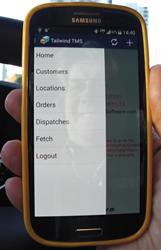 Our new mobile app was built for convenience - Allowing our customers timely intervention and updates.
Vancouver, BC (PRWEB) November 29, 2014
Tailwind Transportation Software Ltd. is one of North America's leading developers for asset-based Carrier & Freight Brokerage software. After several months of development, the company has launched its new Mobile Android Application for truck drivers & dispatchers.
The new Android application allows truck drivers to update their pick-up and delivery times directly into their transportation management system. The app easily captures customer signatures for every delivery receipt, while conveniently allowing the user to enter new orders and assign loads to an appropriate truck, remotely.
"We are proud to have developed an application for smaller to medium sized companies that will promote time saving and operational effectiveness for their truck drivers," said Mitch Helten, Founder & President of Tailwind Transportation Software. "For many of these companies, this solution will allow them to compete with the larger players in our industry. Using the Android platform means they can now utilize their smartphone without having to make significant investments in other customized systems and technology.
"We can now give the dispatcher the ability to handle a truck breakdown, or delivery problem, remotely, from their Android tablet. If they are no longer required to go into the office in the middle of the night or over the weekend, we will have done something significant for the hard-working people of the transportation industry."
The link to the new Android app can be found at https://play.google.com/store/apps/details?id=com.tailwind.androidcms.app
More information about Tailwind's Mobile App can be found on Tailwind's Website: http://www.tailwindtransportationsoftware.com/
About Tailwind
Tailwind Transportation Software Ltd. creates software solutions for freight brokers, trucking carriers, and other freight transportation companies. It was founded in 2002 by freight transportation professionals that aspired to advance the transportation industry. Tailwind's software solutions focus on maximizing overall efficiency and profitability. Tailwind's mission is to lead the transportation IT market by providing innovative software solutions, helping small and medium sized companies thrive in a changing market place.