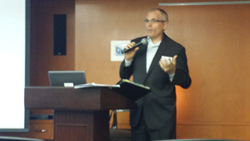 Chicago, IL (PRWEB) November 28, 2014
Jorge Newbery, founder and CEO of real estate crowdfunding platform American Homeowner Preservation ("AHP"), will be a panelist at RealFund Austin: Introducing Online Realty Funding For Investors. The single-day conference will take place at Austin University on January 22, 2015 beginning at 8 am CST. RealFund Austin will provide real estate entrepreneurs an opportunity to learn about funding projects online from leaders of the real estate crowdfunding industry.
RealFund Austin will be produced by the Soho Loft Media Group, a company that has produced several real estate crowdfunding conferences. In September, AHP sponsored RealCap Chicago, one of the Soho Loft's conferences. Newbery was the event's keynote speaker and spoke about the vast differences crowdfunding is making in today's real estate investment market.
"Through crowdfunding, real estate entrepreneurs no longer have to seek out large investments in small numbers," Newbery said. "The ability to list projects online has opened up the real estate market for both entrepreneurs and investors like never before. The Soho Loft does a great job educating people about this nascent industry through their conferences."
Newbery's company offers distressed mortgage investing opportunities to accredited investors. AHP purchases distressed mortgages secured by residential real estate nationwide from banks and lenders at significant discounts. AHP uses these discounts to provide transformative loan modifications that help borrowers avoid foreclosure and keep their homes. The company also sells REOs and settles mortgages to generate cash-flow.
For more information or to register for this event, please visit:
http://www.eventbrite.com/e/realfund-austin-introducing-online-realty-funding-for-investors-tickets-12498873467
American Homeowner Preservation is a socially responsible investment fund manager which empowers accredited investors to purchase equity in pools of distressed mortgages and earn returns of 9-12%. For further information or inquiries please visit https://ahpinvest.com or call 800-555-1055.