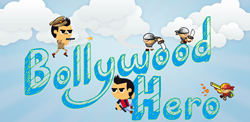 The 'Dishoom' sound effect upon jumping on a bad guy makes the game even more fun.
Dallas, TX (PRWEB) November 30, 2014
Ever dreamed of becoming a Bollywood Hero? Here's a chance to make those dreams come true (sort of). Take a journey into a Bollywood themed adventure with the new Bollywood Hero game for tablets and mobile devices. From the classic police officer, the suave cool guy, to the disco dancer, and many other classic hero's to choose from and many more are being added on a regular basis.
The game is built by Dynamic Inventions, a premier innovation consulting company based in Dallas, TX (USA). The vision behind the game was to build a simple yet fun 2D game to amuse the vast group of Bollywood fans. The game is still in the 1.0 phase and is currently only available for Android phones and tablets. The 1.1 release will include the iOS versions supporting iPhones and iPads and the Ouya version will enable gamers to play the Bollywood Hero game on their TV's. Download the Bollywood Hero game from the Google Play Store.
The GUI is fairly simple with a direction pad on the left and the Shoot and Jump buttons on the right side of the screen making the game very easy to play and navigate. The background music is a mixture of relaxing sounds with an obvious Bollywood flavor. The classic gunshot sounds and the 'Dishoom' sound effect upon jumping on a bad guy makes the game even more fun.
The current version of this adventure game includes 23 stages with the level of difficulty increasing upon finishing each stage. The next versions will include a Boss stage after every 20 levels. The Boss stages will include the classic Villains of Bollywood including Mogambo, Gabbar, Dr. Dang, and many more. An item song and dance stage after defeating each villain is also on the feature list and will be added in the upcoming versions. These features will also be available on the upcoming iPhone and iPad versions. Until then, enjoy the 23 stages of the current version for Android. Download the Bollywood Hero game form the Google Play Store.
Dynamic Inventions is also accepting feature requests from users who would like their favorite Bollywood Hero or Heroine added to this game. Simply fill out a quick feature request to Dynamic Inventions. Please note that actual Bollywood actors cannot be added to the game rather only the characters they have played. For legal reasons, the characters will not look exactly the same and might not have the same name either. Please read the legal disclaimer by Dynamic Inventions on the Google Play Store product page.